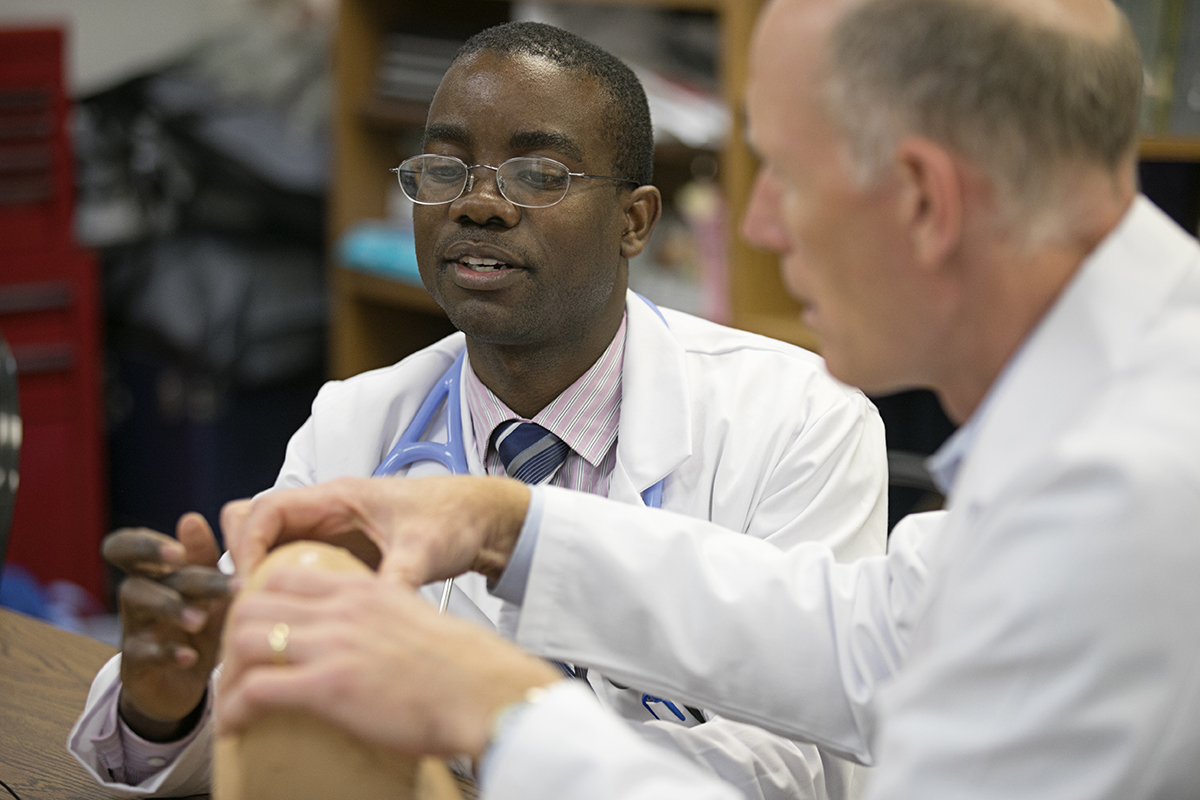 By Rebecca Budde
Forty-eight years ago, forward-thinking leaders at SIU developed a plan to start a medical school to train young doctors who would provide health care for the people of central and southern Illinois. SIU School of Medicine has far exceeded its original goal with thousands of physician assistants, graduate students, MEDPREP graduates, residents and fellows joining the more than 2,800 physicians who were educated at SIU.
Medical education is ever-changing, and SIU is leading the next generation of health care providers and researchers.
Philanthropic support continues to drive the school's mission forward. This financial assistance is imperative to expansion of student scholarships, development of new, exciting programs, the recruitment of top-notch faculty and the ability to keep pace with ever-evolving technology.
The cost of education
While cost of tuition at SIU School of Medicine remains one of the most affordable among public universities, these medical students graduate with significant debt – more than $210,000 on average – according to Erik Constance, MD, Associate Dean of for Admissions and Student Affairs. "Scholarships are imperative for fulfilling our mission of sending well-trained providers in central and southern Illinois," Dr. Constance says.
While we awarded the most medical student scholarships ever last year, the amounts awarded barely put a dent in the debt load. "I am so appreciative of those who made my scholarship possible," says Allen Ghareeb, MD, '18. "Even if you can only give a little, it all adds up and can help so many more achieve their dreams."
And SIU's other learners are in great need of support too. SIU's MEDPREP students come from socioeconomically disadvantaged backgrounds. They are often paying off debt from their undergraduate education while also paying for two years of MEDPREP. With medical or dental school education on the horizon, the financial burdens can greatly impede their academic success.
To remain competitive with other physician assistant (PA) programs, SIU's highly successful PA program has higher tuition rates than other SIU graduate programs. The tuition combined with the additional cost of supplies such as a diagnostic kit, stethoscope, reflex hammer, tuning fork and textbooks, make scholarship support crucial.
Resource funds
The Medical Student Resource Fund helps fill in the gaps left by other funding sources. Generous alumni and friends have funded the purchase of teaching materials, vital medical resources, clinical clerkships, gym memberships and the remodeling of student lounges.
The Resident Resource Fund is set up to help the school's 19 residency programs and 11 fellowship programs. The funds provide necessary equipment for learners' specialties, research seed money and opportunities to present or train at national conferences. Fourth-year SIU neurosurgery resident Breck Jones, MD, is a beneficiary of such generosity. "I've been able to train with some of the top physicians in my field thanks to funds I've received from the Foundation," Dr. Jones says. "I'm proud to be a part of a place where the alumni invest in my future."
Help us grow
You don't have to be a billionaire to create a lasting legacy for our learners. Whether you want to make a one-time large gift or multiple small gifts over time, every gift helps our learners succeed.
To learn more about the Forever SIU campaign, visit www.foreversiu.org. To learn more about the SIU School of Medicine, visit www.siumed.edu or call 217-545-2955.
Engage with us on LinkedIn, Facebook, Twitter and Instagram.