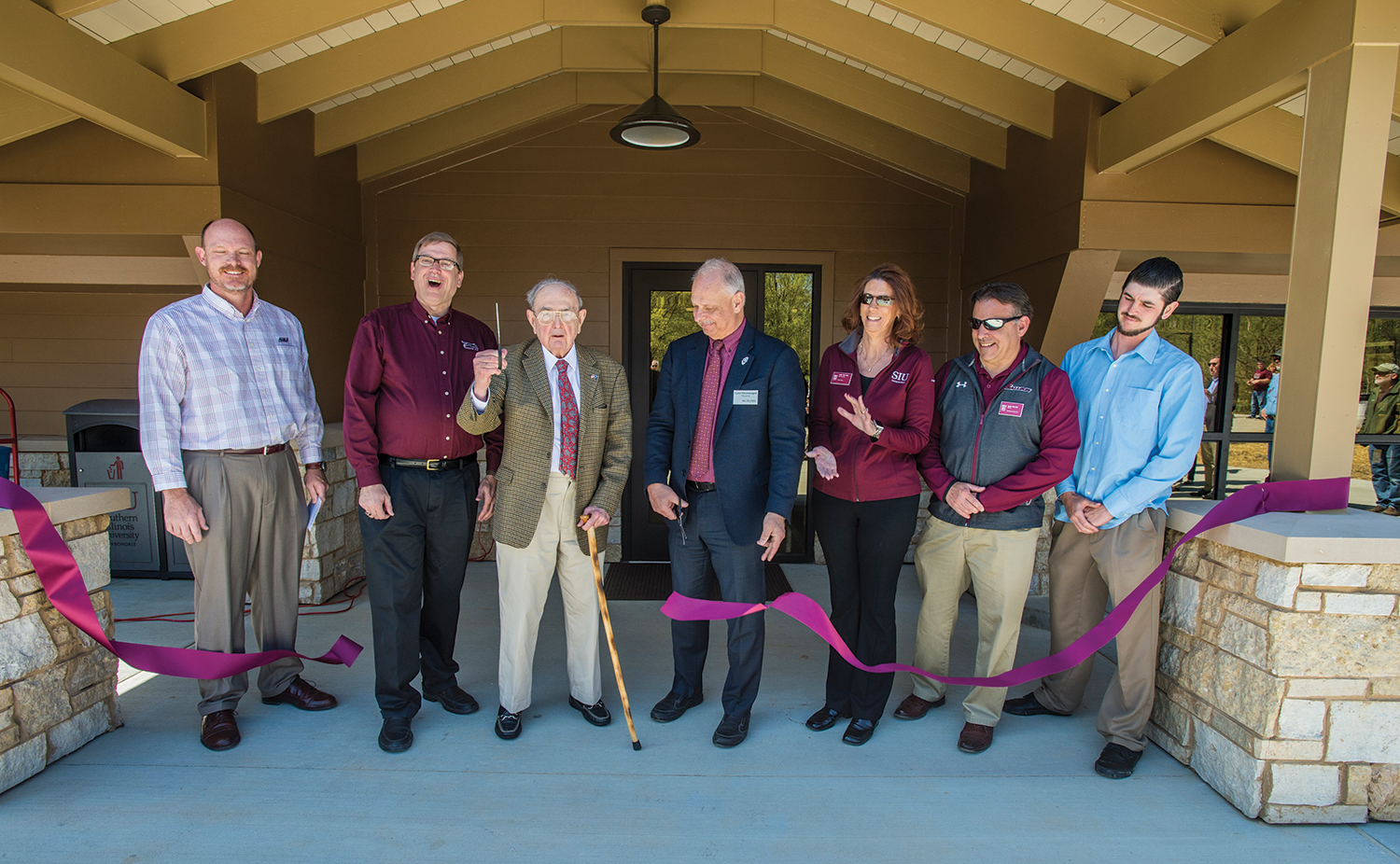 It all started with a phone call in August 2016.
"I can remember it clearly," said Jim Salmo, vice chancellor for development and alumni relations. "The phone rang and it was Ralph Becker, a 1955 SIU alumnus, pioneer of SIU's radio-television program, and loyal donor. He called to challenge me with a $1 million donation that would make a difference on campus."
Salmo presented Becker with several projects, and Becker chose the Campus Boathouse. As the renovations began, the SIU plant and service operations crew set up a camera so Becker, who lives in North Carolina, could watch the renovation progress.
Fast forward 18 months to April 28, when the SIU Foundation dedicated the newly renovated Ralph E. Becker Boathouse Pavilion. Hundreds came to attend the ceremony, and many lingered to offer Becker a heartfelt thanks and to share their memories of what the boathouse meant to them.
Sally Wright waited in line to share a memory. When she reached Becker, she said, "I just want to thank you for restoring the boathouse. My husband Mike and I were married here. This year will mark our 31st wedding anniversary. This place has some unforgettable memories for us and I just want to thank you for your generosity."
Troy Vaughn, recreational sports and services director, believes the renovated boathouse will reenergize both students and the community.
"This brings an incredible amount of energy to the campus," he said. "So many units came together to make it a reality. It was just an incredible team effort.
"Students are going to have a blast here," Vaughn added. "The diversity of events is going to be amazing. Biology professors can hold classes here, student organizations can meet at the boathouse, and community members can rent it for a variety of events. We even hope to host weddings here again."
In remarks made at the ceremony, SIU Chancellor Carlo Montemagno said, "The Becker Boathouse is a transformative gift that symbolizes the resurgence of SIU and its prominence as the bright maroon jewel in the crown of Illinois higher education."
Becker summed up the celebration. "This is absolutely terrific. I never expected the university to go to this extreme," he said. "Everything I ever accomplished started right here at SIU Carbondale. Seeing this, and all of the people who came out, I believe this is the best day of my life."
"The campus lake restoration and the boathouse renovation are the two most uplifting projects we have promoted this past year … they just bring back good memories for people," Salmo said.
Engage with us on LinkedIn, Facebook, Twitter and Instagram.