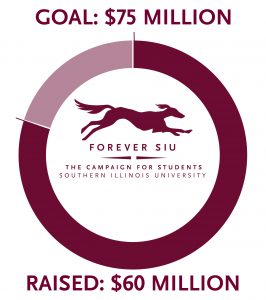 SIU Carbondale launched the Forever SIU at the beginning of January 2017 with a goal of $75 million. Thanks to the generosity of many donors during the past year and a half, 80 percent of the goal has already been achieved, according to campaign co-chair Dan Korte, a 1985 SIU alumnus.
"It's a great place to be at this point in the campaign, but the public phase of any campaign can be more challenging because it requires a greater number of people to make many smaller gifts," said Korte.
"That's why we need the help of all loyal Saluki donors now more than ever, because in the increasingly competitive world of higher education, this campaign is vital to ensuring that SIU Carbondale will continue to be a university that future generations of students want to attend."
As attendees learned at last year's public kickoff event, the campaign goals include increased scholarships for students, provide expanded opportunities in the classroom, enhance facilities and resources, and offer a deeper community engagement.
As of April 30, 2018, approximately 30,000 gifts have been received for the $60,616,889, or 80 percent of the $75 million goal, according to Jim Salmo, chief executive officer of the SIU Foundation.
"Support from alumni has made a major impact in the early success of the Forever SIU campaign. More than 57 percent of all donations have come from alumni. More than 27 percent have come from other friends of the university," said Salmo.
Salmo urges donors to connect with the foundation staff members to identify the many different opportunities to make a gift.
"Many alumni mistakenly think we are looking for only large donations, but that is just not true," said Salmo. "We offer a number of ways to make donations of all sizes, from matching gifts, to securities, or to honor loved ones."
To learn more about the campaign, visit www.foreversiu.org or call 618-453-4900.
Engage with us on LinkedIn, Facebook, Twitter and Instagram.