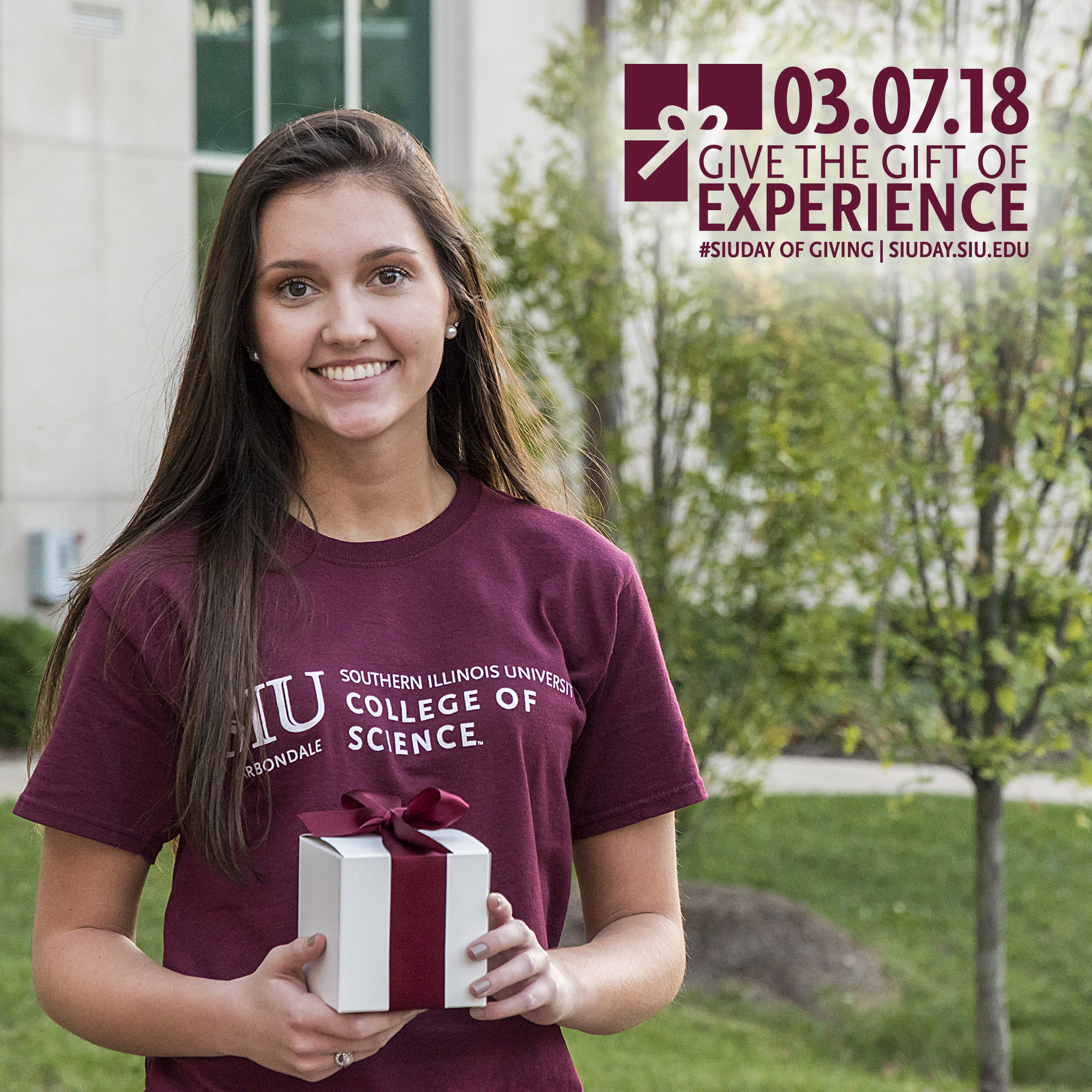 Britt Peyton is a first-year student from Norris City, Illinois, studying physiology.
Why did you choose SIU?
I chose SIU for a few reasons. The first reason is that SIU felt like home. I've grown up in southern Illinois, so SIU automatically felt like where I should be. Another reason is the research that happens at SIU. I started working as a research assistant in Dr. Gilbert's Integrative Neuroscience Laboratory as a freshman, and I knew that SIU was one of the only universities that could give me that opportunity.
What would you tell a prospective student about SIU?
No matter what your major is or what your interests are, SIU has something for you. Whether you're a business major who could be a part of the Saluki Student Investment Fund, or a pre-medicine student who could be in a research lab, or a forestry student who might work at SIU's Touch of Nature, you can thrive in your major and pursue your interests.
What inspired you to choose your area of study?
I'm studying physiology in the hopes of going to medical school. What inspired me to choose this path and area of study was loving science and wanting to have a career that meant something to me. I know that going into medicine will be difficult, but the thought of working as a physician and helping people and continue learning new things throughout my life will be well worth it.
What is your most memorable experience at SIU?
So far, my most memorable experience has been making friends and the memories I've had with those people. I knew nobody when I first came to SIU. Seeing how welcoming and friendly everyone was here really helped me come out of my comfort zone and find the people that I now call my friends.
Have you received any scholarships as a student?
Yes, I received a few local scholarships my senior year of high school, as well as SIU's Chancellor's Scholarship.
What does the scholarship mean to you and how has it enabled you to pursue your goals?
The Chancellor's Scholarship means the world to me. It has enabled me to completely focus on my classes and extracurricular activities instead of worrying how I'd pay for college. It's also allowed me to put all of my local scholarships aside, which I'm also incredibly grateful for, and save them for medical school and maybe even studying abroad.
How has SIU inspired you?
SIU, most of all, has inspired me to be the very best I can be. Whether that be through professors who have encouraged me to take that extra class, or advisors who encouraged me to join a research lab as a freshman, or RSOs that have allowed me to be more involved on campus than I thought possible in my first year. Every aspect of my experience at SIU has taught me to push myself and that my experience here can be as great as I make it.
Why should someone consider donating to SIU?
Someone should donate to SIU because of the promise our students have. There are students here going overseas to help deliver medical supplies to countries that need them, students who are involved in life-changing research, and first generation college students graduating and making the world a better place. Donating to SIU would be helping these students, as well as many more students who are doing equally amazing things.
What do you brag about most when you tell your friends about SIU?
I brag most about all of the opportunities I've had, even just in my first year here. SIU had enough faith in me to award me a full-ride scholarship. I'm involved in an exceptional research lab as a first-year student, I get to be a part of bringing new students to SIU through being a Saluki Ambassador, and those are just a few examples of how SIU has given me more opportunities than I thought possible.
If you had $1,000 to donate to the SIU, what would you like to see that money benefit?
I would like to see that money benefit paid research assistant positions. It is my understanding that students used to get paid while working in a research lab, so I would love to see that come back. My main reason for that is because I, as well as other students, work in research labs and don't have time to have paid jobs outside of class and research, so it would be extremely helpful to us if we could have both in one.
You can support SIU students during SIU Day of Giving on Wednesday, March 7, 2018: https://siuday.siu.edu/
Engage with us on LinkedIn, Facebook, Twitter and Instagram.