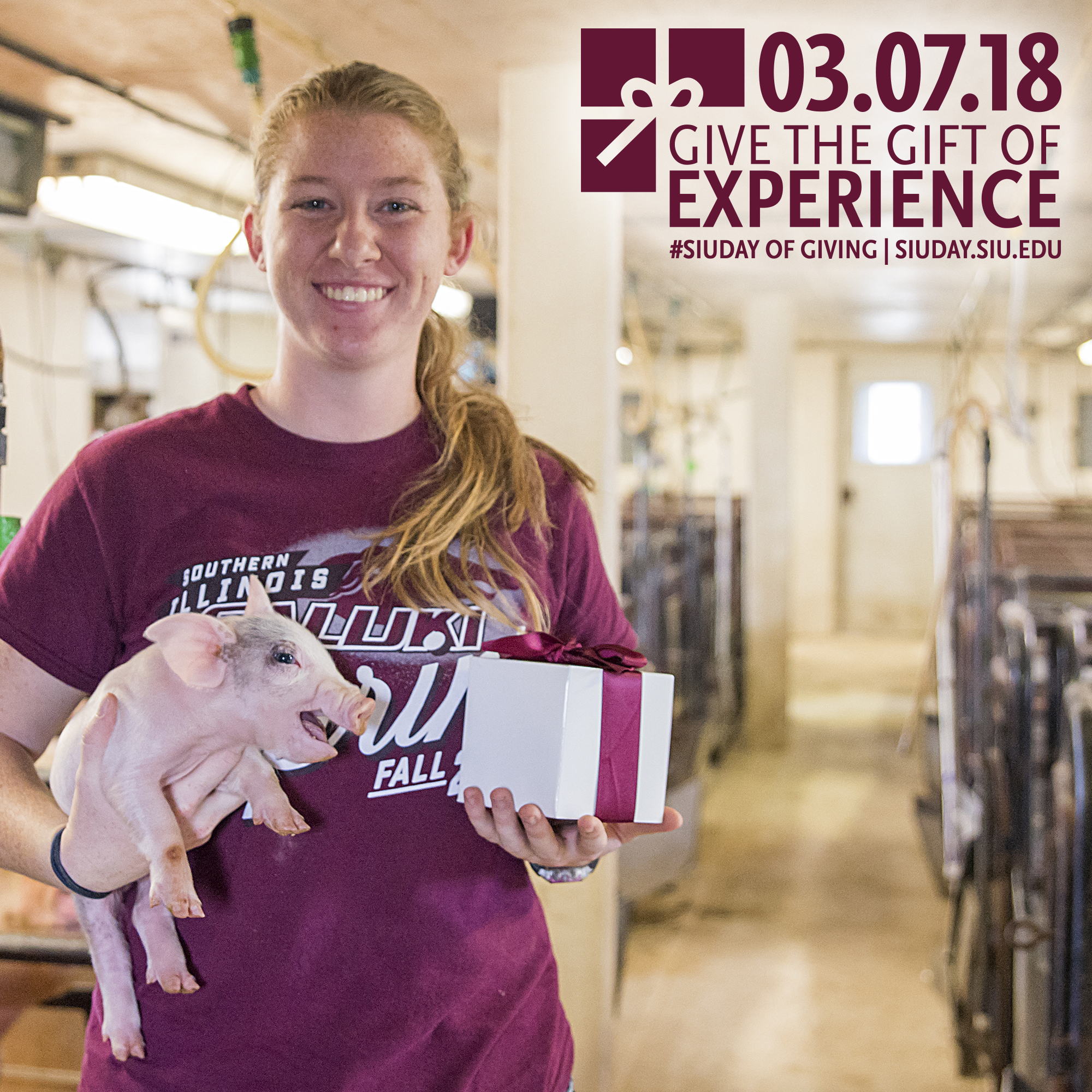 Rebecca Harris is a junior from Metamora, Illinois, studying pre-veterinary medicine.
Why did you choose SIU?
The biggest reason I chose SIU was because of the outstanding research opportunities and hands-on experience within the College of Agricultural Sciences. In my first semester of attending SIU, I was already volunteering to help with research on deer palatability studies and have since helped with nutrition research in cattle. I was also volunteering at the University Farms in my first semester. I now have a job with the beef and swine centers where there is always something for me to learn and further enrich my education outside of the classroom. SIU is well-rounded, in my opinion, from varying aspects: affordable costs (because of the numerous generous scholarships awarded), quality programs, and staff that actually care about their students.
What would you tell a prospective student about SIU?
Get involved! Your education is truly what you make of it and the opportunities are endless. There are so many clubs around campus to choose from that you are sure to find something you enjoy. In the process, you may find yourself making new friendships that will last a lifetime.
What inspired you to choose your area of study?
Since a young age, I have always known that pursuing a career in veterinary medicine was something I have wanted to do. I am extremely passionate about animals and love being able to help them.
What is your most memorable experience at SIU?
In my introduction to animal science lab, I got extra credit for sticking my arm into a cannulated cow without a glove on. This was pretty early on in my studies at SIU and not something I thought I would be doing for a class. The animal science classes have been really awesome and rewarding.
Have you received any scholarships as a student?
Yes. SIU Dean's Scholarship D4, Harold and Nora Kuehn Animal Science Scholarship, and the Walter Wills Animal Science Scholarship.
What does the scholarship mean to you and how has it enabled you to pursue your goals?
The scholarships I have received have enabled me to pursue my dreams ultimately with minimal debt. I am so thankful to have been blessed with the scholarships I have gotten.
How has SIU inspired you?
SIU has inspired me to try things outside of my comfort zone. Last year when applying for summer internships, one of my biology lab teaching assistants recommended that I apply for jobs in wildlife conservation and so I did. This past summer, I worked for Idaho Fish and Game on a research project to gain wolf population estimates and now am extremely interested in wildlife and ranch veterinary medicine. This aspect of my career field is something I never really considered before attending SIU.
Why should someone consider donating to SIU?
Donors are what make many of the scholarships students receive possible and thus make obtaining an education easier! They also are what enable many of our opportunities (like funded research) to be possible.
What do you brag about most when you tell your friends about SIU?
For being in Illinois, you really do not feel like you are in Illinois. There are so many things to do outdoors from cliff jumping at Lake Kincaid, horseback riding at any of the local stables, or even just hiking and camping in the nearby national forests like Shawnee National Forest. Southern Illinois isn't just a flat piece of land with corn and beans; there are rolling hills with forests and so much to explore. It is quite a nice change of scenery and the area in general has a small-town feel, which I prefer.
If you had $1,000 to donate to SIU, what would you like to see that money benefit?
If I had $1,000 to donate to SIU, I would like to the money go towards the beef and swine centers at the farms. There are many useful things the funds could go towards including updating facilities and equipment. The farms in my opinion are such a valuable learning aspect of SIU's College of Agricultural Sciences that are underappreciated and sometimes even taken for granted.
You can support SIU students during SIU Day of Giving on Wednesday, March 7, 2018: https://siuday.siu.edu/
Engage with us on LinkedIn, Facebook, Twitter and Instagram.