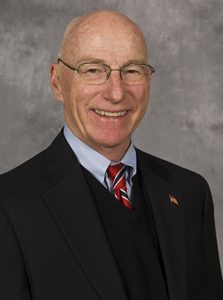 By Jeff Wilson
Few SIU alumni have created a legacy as impactful as F. Lynn McPheeters.
His first major philanthropic act at SIU came in 2006 when he and his late wife, Susan, donated $585,000 to create the Susan F. and F. Lynn McPheeters College of Business Leadership Endowed Chair. In 2017, he donated $1 million to endow the McPheeters Family Scholarship, and in 2022, he announced a $1 million estate gift to supplement that fund and establish the F. Lynn McPheeters Chair of Finance Endowment Fund in the College of Business and Analytics.
Now, he is one of the major sponsors of the inaugural Saluki Ball. With a $25,000 donation, McPheeters is a Saluki Platinum sponsor.
The Saluki Ball, to be held Saturday, April 22, at the Marriott Marquis Chicago, will help students bridge the financial gap as they strive to reach their ultimate goals. The presenting sponsors of the ball are the Honorable Glenn and Jo Poshard and ULLICO, Inc., and Laborers' Local 773.
"This event celebrates SIU's reputation for providing a first-class education and will raise money for scholarships," said McPheeters, 1964 graduate of the College of Business. "It pains me that so many people are coming out of school with mounds of debt. In recognition of this situation, the SIU Foundation has significantly increased its efforts to provide scholarship assistance, as so many other universities have done."
Hosted by Chancellor Austin Lane and Mrs. Loren Lane, the ball is black-tie optional and will feature a performance by R&B legend Brian McKnight. It will be hosted by ESPN radio host and SIU alumnus Marc Silverman.
"Personally, I am very impressed with Chancellor Lane, what he's doing, and his plan for the future," McPheeters said.
McPheeters transferred to SIU from Canton College, now Spoon River College, a community college in his hometown of Canton, Illinois, and finished his accounting degree at SIU.
Soon after, he started at Caterpillar, Inc., and began a steady rise through the company. In 1973, he moved to Switzerland to serve in a financial management position with Caterpillar overseas. He also worked in Tokyo for Caterpillar Mitsubishi and in Hong Kong at Caterpillar Far East Limited. He retired in 2005 as chief financial officer for Caterpillar and vice president of the Corporate Services Division.
"SIU led me to an incredible career with Caterpillar that took our family around the world and gave us tremendous opportunities," McPheeters said. "I was very fortunate to have a supportive family throughout my 40 years with the company."
In the decades since his graduation, McPheeters has served SIU in multiple ways. He joined the SIU Foundation Board in 2002 and served as chair of the audit committee and board president. He was one of the first members of the College of Business and Analytics external advisory board and inducted into the college's Hall of Fame in 1988. Among other honors, he earned the College of Business Alumni Achievement Award in 2004. In 2016, he received one of the university's highest honors, the Distinguished Service Award.
He never anticipated the success that his SIU education would help provide.
"When I graduated, I was just happy to have an education and a job," McPheeters said. "I have always believed that everything happens for a reason. I was very fortunate that SIU was there."
For more information about the Saluki Ball, visit salukiball.siu.edu.