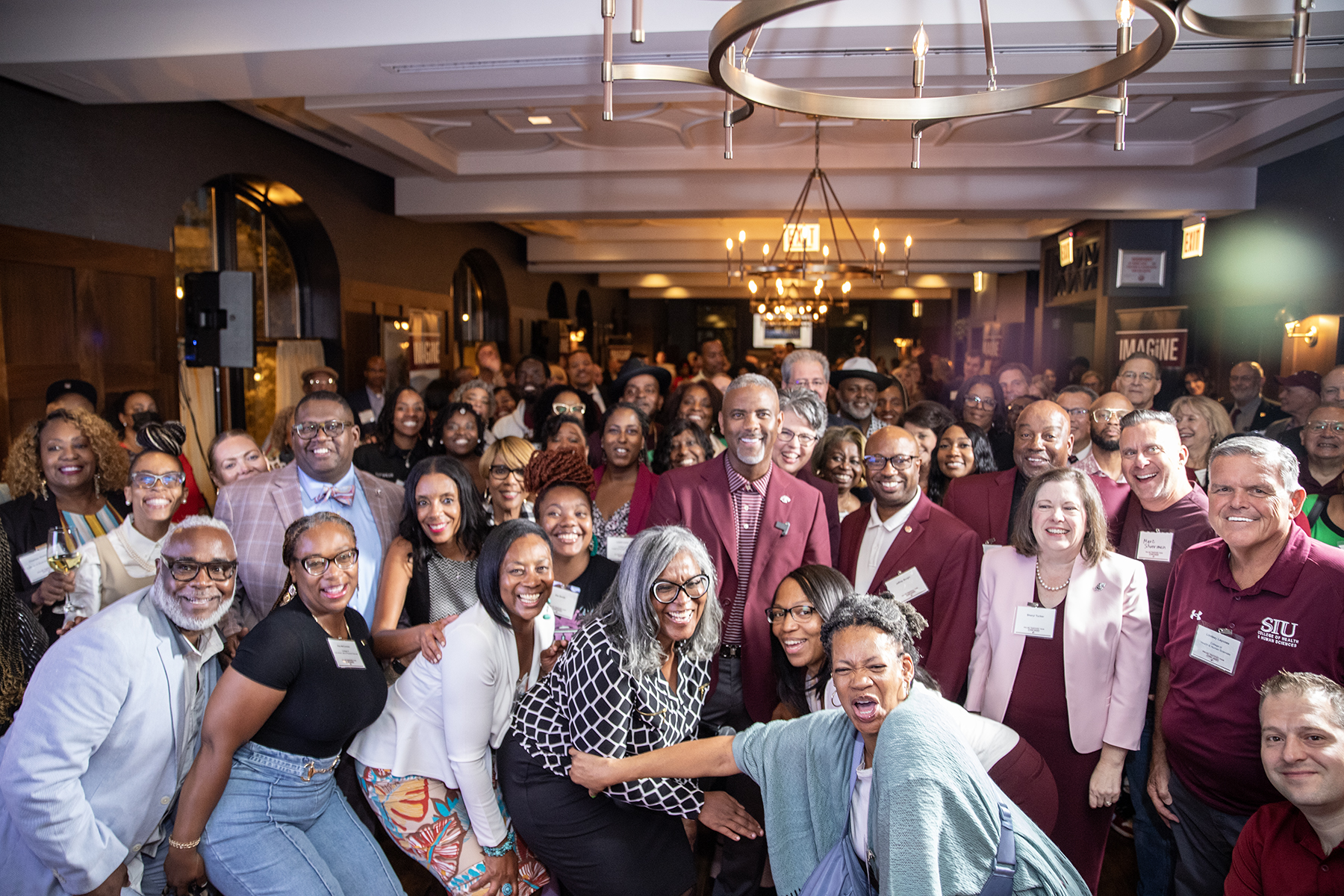 By Jeff Wilson
In its third year, the Saluki Takeover Tour in Chicago brought excitement and SIU pride to the Windy City.
Earlier in the week, the university announced the first increase in overall student enrollment since 2014. On the heels of that incredible news, the Saluki Takeover Tour events were buzzing with energy.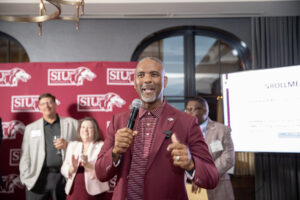 "You need to hear directly from me how much I appreciate your support," said Chancellor Austin Lane to a crowd of 250 Salukis on Thursday, Sept. 7, at the Chicago Firehouse Restaurant. "When you look at these enrollment numbers, we're not shocked. When you have this many people that passionate about their alma mater, incredible things are possible."
SIU System President Dan Mahony echoed Chancellor Lane's sentiment about building enrollment.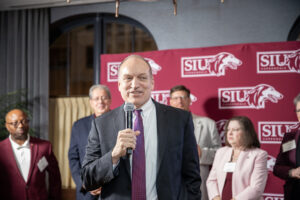 "The only way you get enrollment numbers like this is as a team," Mahony said. "You're talking about faculty, staff, administrators, alumni, donors, everybody playing their part. We could not be in a better place with the type of support we have had from everyone over the last few years."
Building, rekindling connections
Things kicked off on Wednesday, Sept. 6, with visits to multiple community colleges and high schools, including agreement signings at College of DuPage and Elgin Community College. Associate Vice Chancellor for Enrollment Management Wendell Williams, Provost and Vice Chancellor for Academic Affairs Sheryl Tucker, Extended Campus Executive Director Susan Wegmann, and many others visited with leaders of many other schools around the region.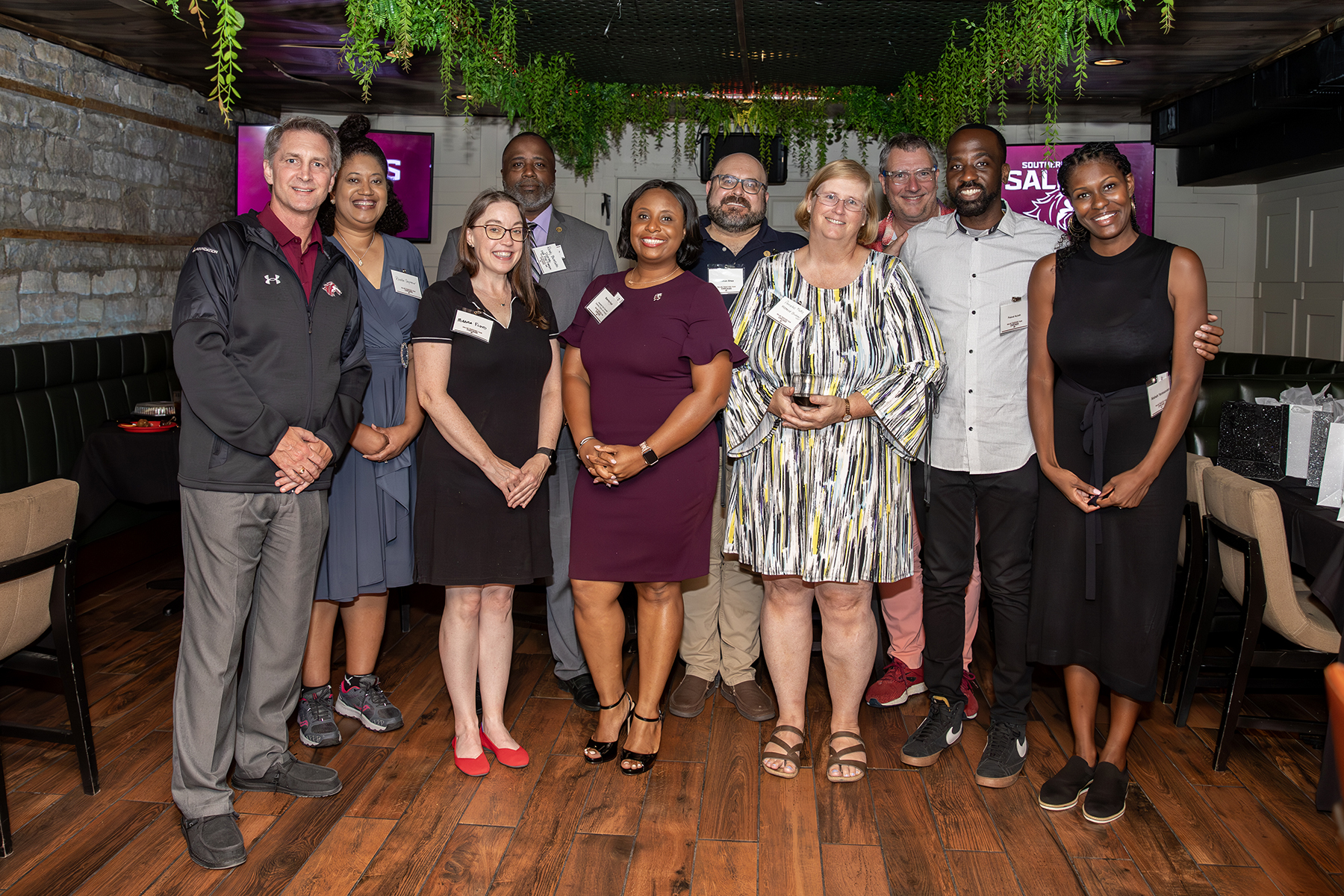 Later that evening, Dr. Randy Burnside, director of the MEDPREP, hosted an intimate reunion gathering for MEDPREP graduates at the Black Barrel Tavern. The Medical/Dental Education Preparatory Program prepares educationally and socioeconomically disadvantaged students for medical, dental, and other health profession schools.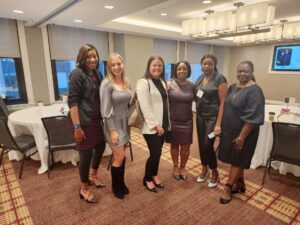 On the morning of Friday, Sept. 8, Assistant Vice Chancellor for Anti-Racism, Diversity, Equity, and Inclusion Sherrica Hunt and Senior Director of Corporate & Foundation Relations hosted a Corporate Networking Breakfast at the Residence Inn.
Attendees including representatives from multiple corporations, including Enterprise, Caterpillar, Stryke Connect, and Ariel Instruments were welcomed by President Mahony.
"We've always had this really strong Chicago connection, and it's getting even stronger now," he said.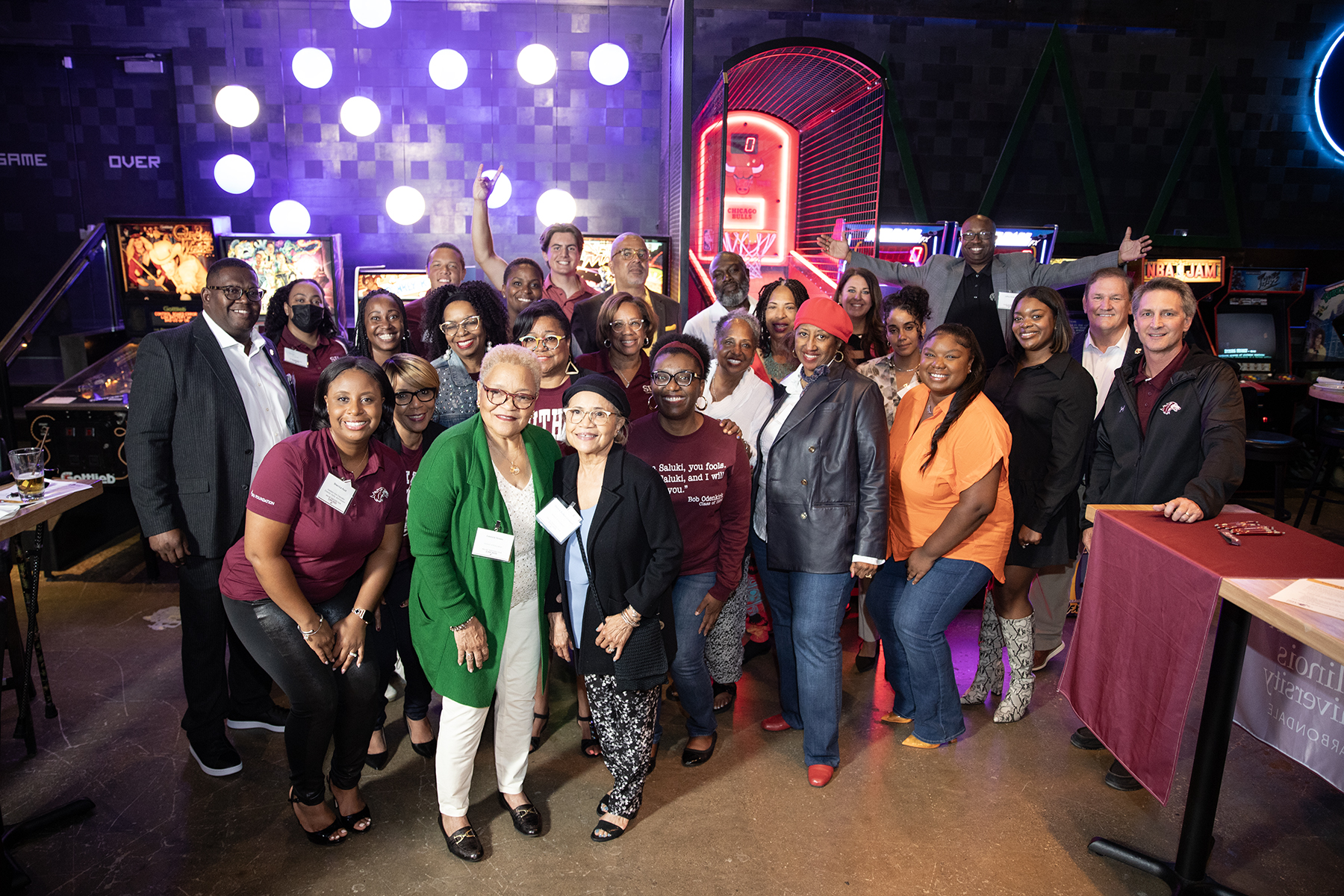 That evening, Vice Chancellor for Anti-Racism, Diversity, Equity, and Inclusion Paul Frazier hosted a Multicultural Networking Happy Hour at Highline Bar & Lounge.
"Beyond your dollars, we need your human capital," Dr. Frazier told the crowd of over 30 people. "In order for our Cook County students to feel at home at SIU, we need you to be there for them and share your experiences."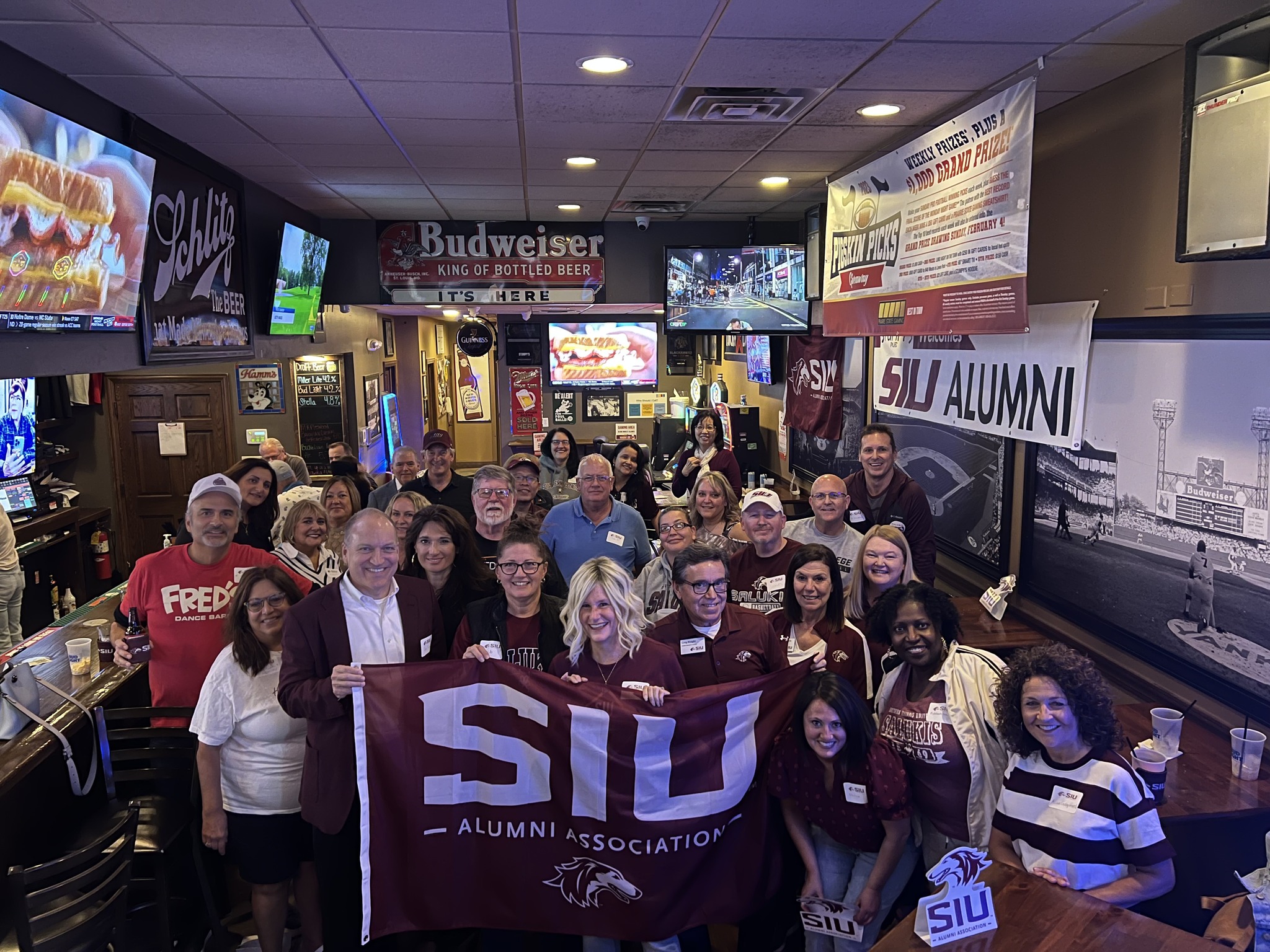 On Friday evening in Rockford, about 100 SIU alumni gathered at Stumpy's Pub. Hosted by the SIU Alumni Association, alumni and friends enjoyed free pizza while sharing their favorite Saluki memories.
Salukis win again
On Saturday, Sept. 9, nearly 100 alumni joined the pregame tailgate before SIU's 14-11 win over the Northern Illinois Huskies. It marks the second straight year the Saluki Takeover Tour in Chicago being capped by a Saluki Football win against an FBS opponent. Last year, the Salukis topped Northwestern.
"I'm just a small part in all of those wins," said Saluki Football coach Nick Hill. "We've had really good players, and players win the games. It's fun to be on teams that believe you can win (against FBS teams)."
Taking over
Hosted by the SIU Foundation, the Saluki Takeover Tour has made its way to Chicago, St. Louis, Nashville, and Florida. Over the next year, there will be takeover tours in other parts of the country, including Southern Illinois from April 24 to May 4.
"When the chancellor got here, he said it was time to take SIU on the road. We're going to go to Chicago. We're going to put the flag in the ground, and we're going to tell the Windy City that this is Saluki territory," said Vice Chancellor of Development and Alumni Relations and SIU Foundation CEO Matt Kupec.