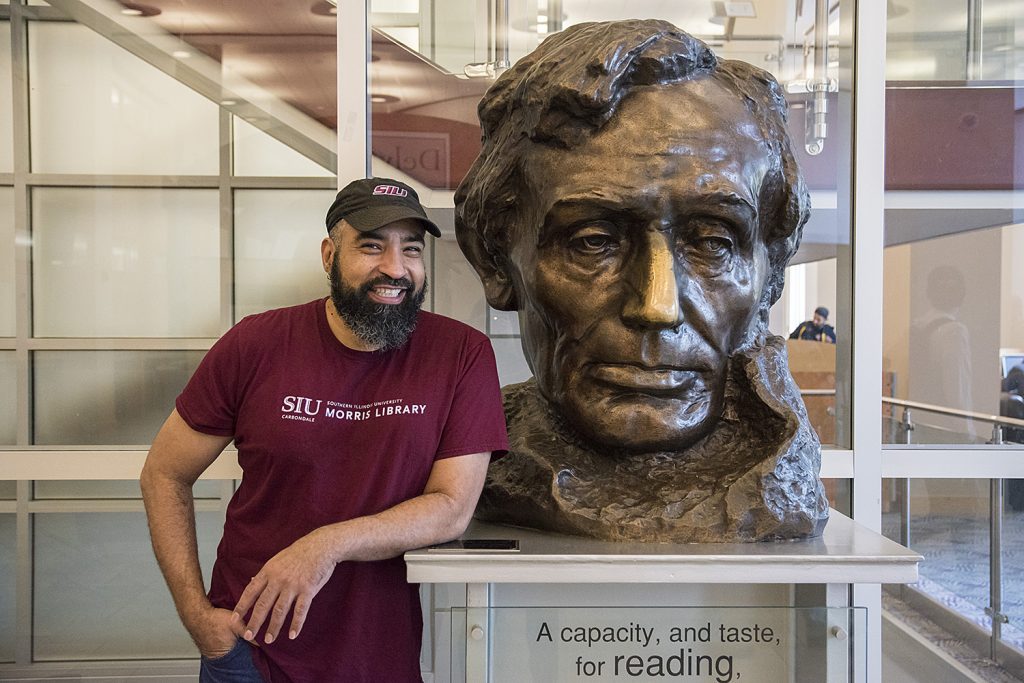 By Rebecca Renshaw
Dave Whitfield, a graduate student from Cairo, Illinois, and a Morris Library student employee, was awarded the Jeanne Hurley scholarship in May 2017. Whitfield said the scholarship has him leaning toward pursuing a master's degree in library science after he receives his doctorate in communication studies.
Morris Library administers the endowment, created to celebrate the life and longstanding commitment to libraries and education of Jeanne Hurley Simon, wife of the late U.S. Sen. Paul Simon. The endowment provides up to three scholarships each year to Morris Library student employees, and the goal is fostering the development of ethnic, racial, cultural and gender diversity.
Whitfield said he thoroughly enjoys his job at the information desk, especially when he gets to help community patrons and those with disabilities.
"I was a medic in the Air Force from 1990 until 1998," he said. "In that timeframe, my work revolved around helping people. Now, 10 years later, I'm still helping people, but just in a different environment.
"Working in the library is so fulfilling because people often don't have the vocabulary to ask how to find the things they know little about yet. It forces me to become a good listener and to establish a positive connection with people who are trying to find something in the library. If I can make them feel welcome and comfortable, we will always end up finding out what they need," he added.
Whitfield hopes more individuals will give to Morris Library.
"This place is transformative," he said. "When donors give to this great library, they are opening the doors of opportunity to everyone – students, faculty, alumni and the entire community. It's just a great place of expanding minds and forging relationships."
For more information about Morris Library's fundraising goals, visit www.foreversiu.org/colleges-units/morris-library.