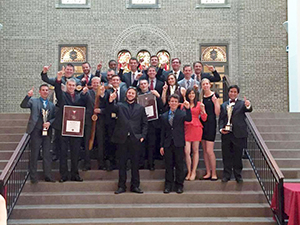 As defending National Intercollegiate Flying Association champions, Prescott R. Dean, Sean S. Gipe and the other members of the Southern Illinois University Carbondale Flying Salukis understood they were targets.
Their commitment to defending the 2014 title parlayed into a strong team effort this year as the Flying Salukis won a second straight national collegiate aviation championship Saturday at The Ohio State University. The title is the third in five years and the program's ninth national championship.
The Flying Salukis finished with 430 points and beat the University of North Dakota by 35. Embry-Riddle Aeronautical University-Prescott, last year's runner-up, was third with 366 points. Twenty-nine teams featuring 343 students and team members competed May 11-16 at OSU Airport in Columbus, Ohio.
A public reception to honor the team will be at noon, Wednesday, May 20, in the Transportation Education Center's Multipurpose Room, 545 N. Airport Road, Murphysboro, at Southern Illinois Airport. The Flying Salukis have won titles in 1977, 1978, 1979, 1981, 1982, 1984, 2011, 2014 and 2015.
Dean, with a degree in aviation management and Gipe, a senior in aviation technologies, tied for third in the nation in individual scoring. Dean earned an individual title in simulated comprehensive area navigation (SCAN) and scored in seven of the 11 ground and flight events. Gipe, meanwhile, scored in six events, including teaming with Davin L. Miles to win the message drop title. Gipe is from Media, Pa., and Miles, sophomore in aviation flight, is from Penfield.
George H. Nimmer, a sophomore in aviation flight from Plymouth, Wis., was 10th in the nation in scoring. Emily K. Frasca, a May 2015 aviation management graduate from Champaign, was seventh in the nation among female contestants.
As a team, the Flying Salukis placed the maximum five scorers in two events — computer accuracy and SCAN, and finished first in both ground and flight events.
For first-year head coach James Libuszowski, winning the title is a "pretty unbelievable feeling." He served the past two seasons as an assistant coach, and he credits former coach Nathan J. Lincoln with establishing "the diligence that the students need and the mentality for what it takes to win a national championship like this."
"We've been able to carry that forward and it's become so ingrained in the team that even with the leadership change it doesn't affect them too much to get down to business and get the job done," Libuszowski said. "The past few years have been special. Nate put a lot of hard work into what he did and won two national titles. It feels great to come into my first year and win a national title, but what I learned from Nate was invaluable. Had I not had those two years of valuable experience under him, I don't know what the result would have been."
Ground events are aircraft preflight inspection, aircraft recognition, computer accuracy, crew resource management, ground trainer simulator, IFR (instrument flight rules) simulator and simulated comprehensive area navigation (SCAN). Flight events are message drop, navigation, power-off landing and short-field approach and landing. The top 20 contestants in each event earn points for their team.
"Historically we've usually relied on our flying events to carry us to top placings and national championships," Libuszowski, an assistant instructor in the Department of Aviation Management and Flight, said. "To win first place in both ground and flight events was a tremendous help and shows we have improved the depth of our team and we can spread the points and safeguard in case inclement weather cancels some flying events."
Results are available at nifa.us/SAFECON_2015_Results.html.
John K. Voges, interim department chair, said that through "incredible dedication, tireless study and endless hours of practice" the team and coaching staff continue to show they are a "force to be reckoned with."
"There is no doubt that this team has taken the quality training they have received from this program and through hard work and discipline, honed their knowledge and skill that set the national standard for aviation excellence," Voges said. "I am pleased that this achievement demonstrates to our university and the collegiate aviation community that this program knows how to create the best aviators in the country year after year, without compromise. I could not be more proud of them and the national attention that they bring to our program."
Voges also provided a bit of perspective: the aviation management and flight program has about 300 students on campus, yet beat competitors with enrollments greater than 1,000 students.
"This is comparable in the athletics world to a Division III school defeating Division I schools, and our team has done it for the second year in a row and the third time in the past five years. I am so in awe of this team," he said.
Dean, from Olathe, Kansas, said the team approached this year as a chance to build upon the program's legacy. The win marks the first back-to-back titles for SIU Carbondale since 1981 and 1982. Dean is going to work in corporate aviation in Kansas City, and came to SIU Carbondale specifically for the aviation program and an opportunity to compete with the Flying Salukis.
Team members committed to working harder each day; Dean called it a "one-day contract" with each day providing a new agreement.
"It takes the motivation to be able to be better than the person that is competing against you across the nation," he said. "You know that someone, either just down the road or across the United States, is trying to study just as hard as you. We knew we had an 'X' on our back. We knew everyone was gunning for us. That is why this year we worked even harder to get past that. You just have to keep that in the back of your mind every day."
Knowing that other teams were looking to take the title was a motivating factor, but Gipe said a key was to keep pushing.
"Putting in all of the hard work, it's nice to have it pay off," said Gipe, who with Miles are be captains next year.
Other scoring team members were co-captain John M. Behnke, a May 2015 graduate, aviation management, from Arlington Heights; Kevin D. Grandberry, Jr., junior, aviation management, from Chicago; Michael T. Maughan, a May 2015 graduate, aviation management, from Pinckneyville; Bradley C. Smith, sophomore, aviation flight, from Dove Canyon, Calif.; and co-captain Jacob R. Schwarz, a May 2015 graduate, aviation management, from Chesterfield, Mo.
Other team members are: Aaron I. Applebee, senior, aviation management from Seneca; Matthew W. Benson, junior, aviation flight; from Zumbrota, Minn.; Jon R. Dowell, senior, aviation management, from Lake in the Hills; Greysen H. Harlow, freshman, aviation flight, from Monmouth; Teddy M. Keenan, freshman, aviation flight, from Evanston; Dalton P. Thompson, freshman, aviation flight, from Geneva; and Kindra A. Wendling, sophomore, aviation flight, from Altamont.
The Flying Salukis assistant coaches are Kim Carter, a senior lecturer and academic adviser; assistant instructors and former Flying Salukis Michael A. LeFevre and Stephanie J. Armstrong, and David A. Blood, an assistant instructor in aviation management and flight.