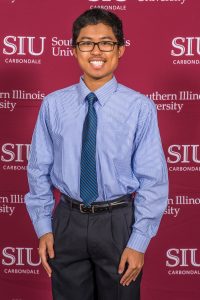 James Cabahug is a sophomore studying Mechanical Engineering.
Why did you choose SIU? Prior to coming to SIU, I wanted to look for a school that was both far away and had excellent opportunities for engineering. Being a first generation college student in my family, I was determined to strive for high grades with full potential. By the first few weeks of my first year at SIU, I was glad that I chose this university, which gave me greater motivation to learn.
How did you feel when you received notification that you received the scholarship? I was proud and spread the word to my family. When they found out about the news, my parents felt extremely proud of me. They told me all the hard work pays off especially in college. I want to give thanks to the donor for my scholarship, because I feel blessed that I am not only doing well in college but I'm also receiving greater opportunities.
What does the scholarship mean to you and how has it enabled you to pursue your goals? The scholarship reminded me not to give up in college classes and to achieve my dreams. I worked and studied hard in all my classes. Understanding what I have learned enables me to help others in need and to form a study group.
What inspired you to choose your area of study? In high school, I excelled in mathematics, chemistry, physics, and engineering. I chose engineering because it uses applied science and mathematics to solve problems at a higher level. During my junior year of high school, I designed a mousetrap powered car that moves with fast velocity, and that inspired me to study engineering. Engineering is based on problem-solving with a hands-on approach.
Do you have a message you would like shared with your donor? Thank you so much for your generous donation to SIU College of Engineering. I am glad that I made the decision to study and challenge myself in college since not every individual has this special opportunity after high school.
Hear more from scholarship donors and recipients from our SIU Academic Scholarship Brunch in this video.