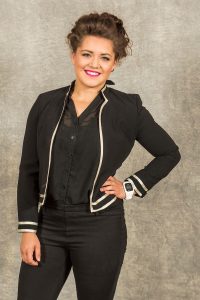 Amanda Neuhouser received the Foote Scholarship in the College of Mass Communication & Media Arts. Neuhouser is a senior from Bloomington, Illinois, specializing in cinema production.
Why did you choose SIU? I chose SIU for their known cinema program and their in-state tuition.
How did you feel when you received notification that you received the scholarship? I was shocked and overjoyed when I received notification about the scholarship. It was such a blessing for my family.
What does the scholarship mean to you and how has it enabled you to pursue your goals? My scholarship has lessened the financial burden on my family. It has also allowed for me to spend more towards purchasing equipment that I can use for my freelance work. By investing in myself and my tools, I have gained skills and connections before graduating.
What inspired you to choose your area of study? My childhood dream was my inspiration for my career choice, I never gave it up.
What achievement in your life are you most proud of? I am most proud of receiving two awards from Girls Impact The World Film Festival at Harvard University two years in a row before the age of 21.
Do you have a message you would like shared with your donor? I am truly grateful that you have invested in me and my ambitions as I push myself to grow more as a filmmaker. I have found myself growing more attached to documentarian activist works and blessing me with finances towards school allows me to use the finances I win from filmmaking awards to invest back into my work.
Hear more from scholarship donors and recipients from our SIU Academic Scholarship Brunch in this video.