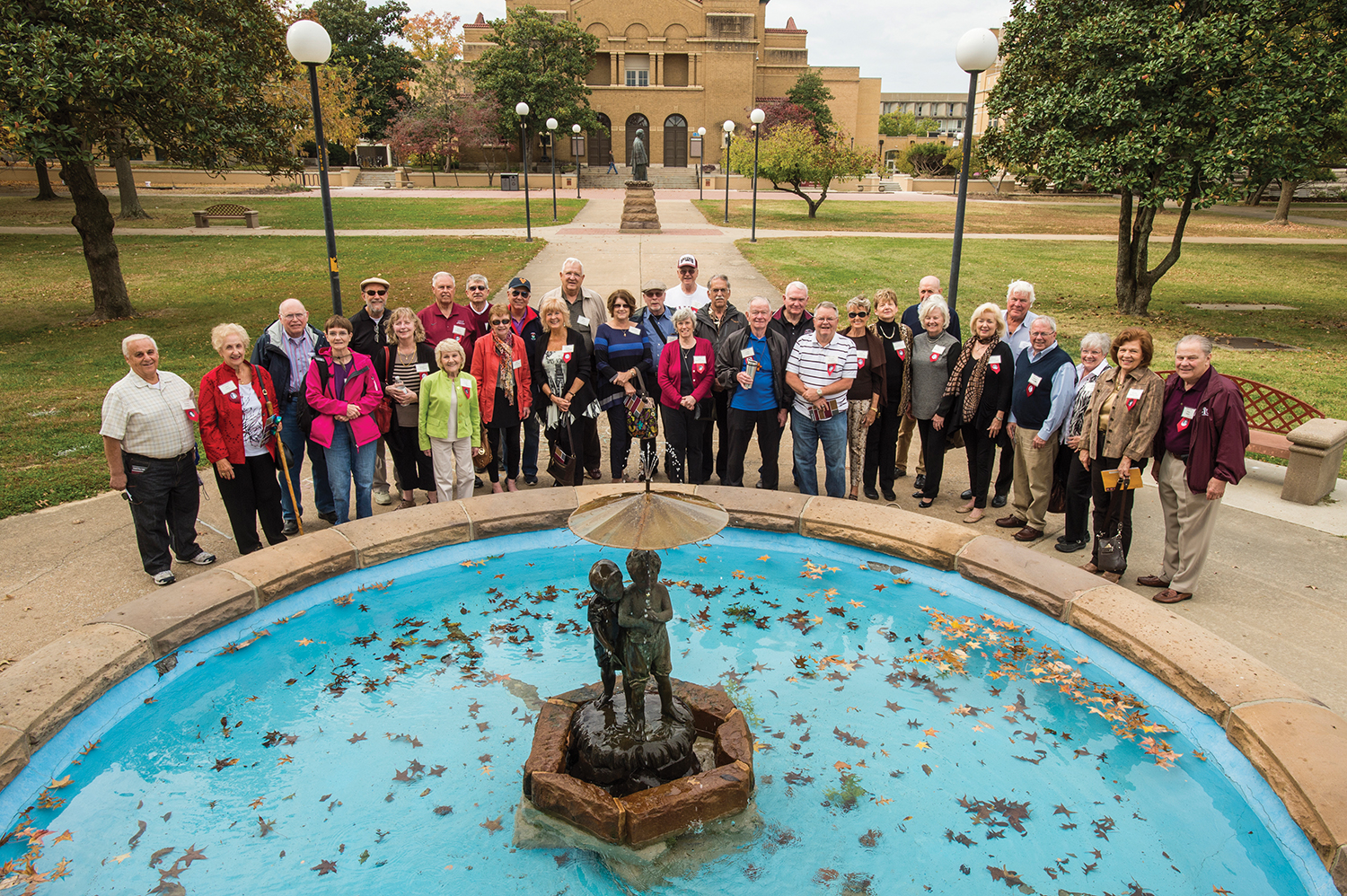 By Rebecca Renshaw
Certain landmarks on campus serve as vivid testaments to SIU's history and traditions. The great Delyte Morris statue at Shryock Auditorium, and the statue of the Saluki that stands guard in front of the football stadium and SIU Arena, evoke nostalgia and enhance the landscape in which students live and learn.
Yet one SIU iconic landmark rises above all others: The Paul and Virginia statue.
The statue of two small children was donated by the Class of 1887 and originally was located in the front of the entrance to Old Main, on the east side of the building. It was moved to the Stone Center following the burning of Old Main in 1969. A duplicate was cast in bronze and placed in the original fountain location between Shryock and Davies Gym, where the statue has stood since the 1970s. The original is still at the garden of the Stone Center.
In 2015, Class of 1965 representatives Michael Hanes, Phillip Pfeffer and Patti Elmore proposed restoring the statues as a class gift to the university. The SIU Foundation helped them solicit contributions from their fellow class members to fund the project in time for their class year's 50th anniversary. More than $20,000 has been donated so far.
"We're trying to revive the idea of a 50-year anniversary class gift that would be everlasting," Hanes said. "The idea of restoring the Paul and Virginia statue that generations of us connect with really appealed to us."
With this project, they are hoping to restore both statues. The condition of the statues and the surrounding area have been of great concern for years. Issues include cracks in the bottom of the pools, as well as the crumbling stone walls that surround the fountains. SIU Physical Plant employees became involved in the project because they, like Hanes, Pfeffer and Elmore, recognized that repairs need to take place soon.
In recent months, the employees have been working hard to restore the statues, repair the stone walls and the fountain basin, install lighting systems and add a water recirculation system. Their goal is to have everything completed by Homecoming 2016.
Hanes said the members of the Class of 1965 are hopeful that, with the restoration, a time-honored tradition will again take root.
"Any time students were heading to class for tests on campus, they would throw a penny in the fountain for luck," he said. "It's a nostalgic memory to see the fountain. It has a great deal of whimsy, and it makes our hearts glad to know that generations will continue to see the bronze pair bestowing good luck upon us as they stand quietly in the center of campus."