by Pete Rosenbery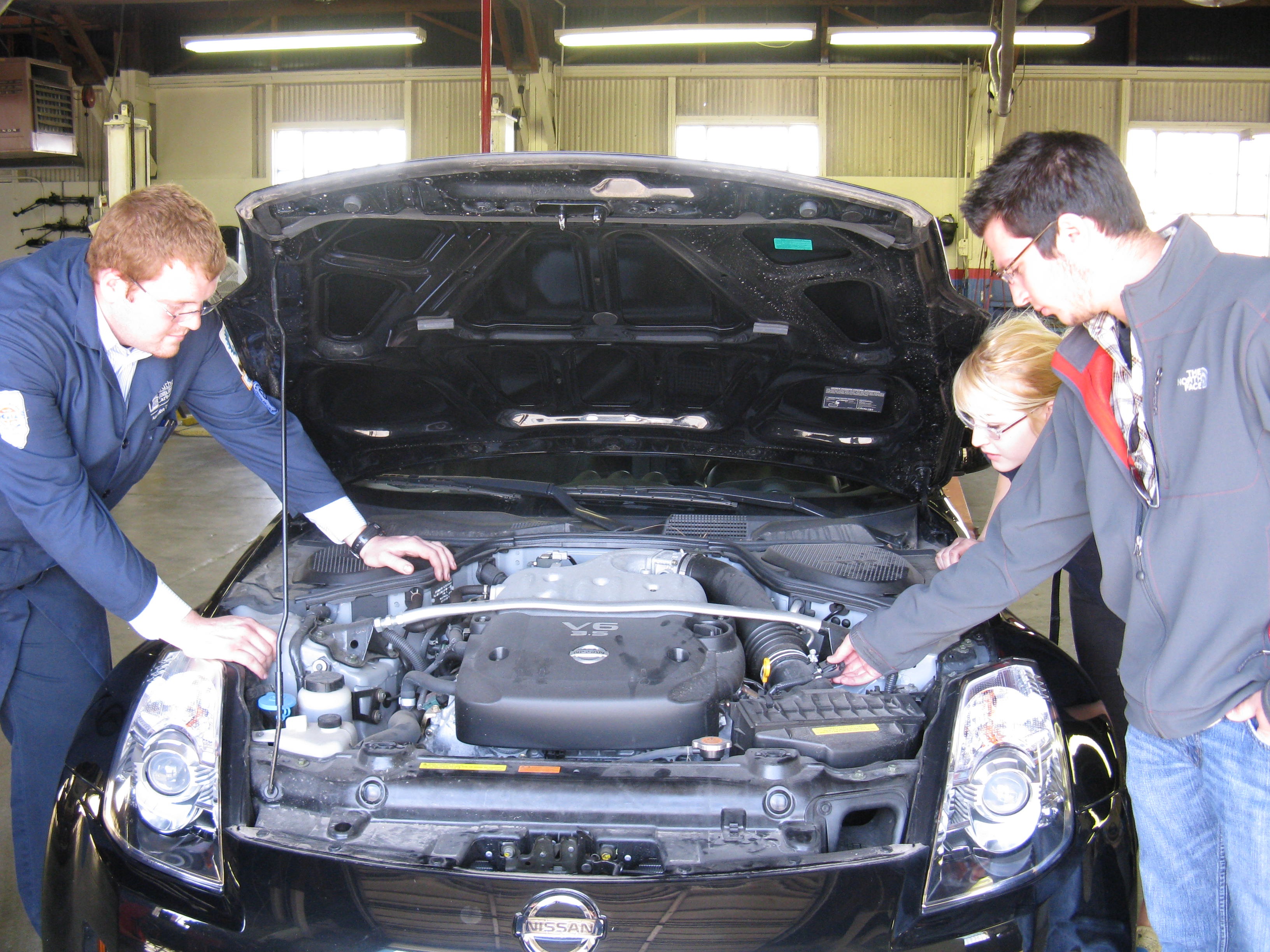 Another significant donation — Christopher Reynolds, left, an assistant instructor with Southern Illinois University Carbondale's nationally recognized automotive technology program, checks out one of the latest donations to the program, a 2006 Nissan 350Z with students Kelsey Pugh, center, and Vincent Tiberio, right. The car is one of six vehicles and equipment totaling more than $151,000 the program received from Nissan North America, Inc. Pugh and Tiberio are juniors in the automotive technology program; Pugh is from Cleveland, Ohio; Tiberio from Yorkville. (Photo by Pete Rosenbery)
CARBONDALE, Ill. — Nissan North America Inc. is assisting students in Southern Illinois University Carbondale's Department of Automotive Technology with a sizeable gift of automobiles and equipment. The company recently donated six vehicles, several engines, transmissions, transaxles and other equipment to the nationally recognized program. The donations, which total $151,610, will help prepare students for careers with major automotive manufacturers, said Jack S. Greer, who chairs the automotive technology department. "This is vitally important," Greer said, noting the gift is Nissan's largest to the program. "It's important to the program to keep it up-to-date as far as technology opportunities for the students. This also demonstrates the dedication the manufacturers have for this program." Geoff Lonberger, fixed operations manager for Nissan North America, Inc., and a 2005 SIUC automotive technology program graduate, coordinated the sizeable donation.
"It is important for manufacturers to support educational programs, particularly ones with an automotive-specific curriculum because a lot of the upcoming graduates from these programs could be the future of the industry," he said. "Without vehicle and parts donations the students would not have current technology to learn from." The donation is another validation of the automotive technology program's standing within the industry, Greer said. "Nissan doesn't give $150,000 to a school they do not think a lot of," he said. "They appreciate our graduates and the way they are prepared for the industry. Our students hit the ground running." Kelsey Pugh, a junior in automotive technology from Cleveland, Ohio, said adapting to the ever-changing automotive industry is important. "It's always constantly changing," Pugh said. "With what we have to work on right now, just getting these new technologies in and seeing different manufacturers and how they do different things is vital." Vincent Tiberio, a junior in automotive technology from Yorkville, agreed. "This is the newest and greatest technology on the market. It keeps us up-to-date," he said. "We are able to see what is out there." As with other donations, students use the vehicles to hone their diagnostic sills. This enables students to train on some of the latest technology, vehicles, and equipment, in the automotive industry, Greer said. "This institution embraces any opportunity to enhance the educational experience for our students," said Rickey N. McCurry, vice chancellor for institutional advancement and chief executive officer of the SIU Foundation. "SIU Carbondale's automotive technology program takes great pride in preparing students for jobs in the industry. Nissan's gift clearly demonstrates a similar commitment to higher education. The University is grateful for Nissan's generosity." It is Nissan's pleasure to donate the vehicles and equipment, said Lonberger. Four of the six vehicles — a 2004 Nissan Titan, a 2006 Nissan 350Z, a 2007 Nissan Maxima, and 2007 Nissan Sentra — will be at the automotive technology campus in Carterville, which has 200 students. A 2000 Nissan Maxima and 2002 Nissan Altima are in use in the off-campus program at Harry S. Truman College in Chicago.
That program began in fall 2007, enabling Chicago-area students the opportunity to obtain a bachelor's degree in automotive technology. Students complete an associate of applied science degree from Kennedy-King or Truman College, and then transfer into the automotive technology program, where SIUC faculty teaches upper-level automotive technical and automotive management courses at Truman College. Lonberger started his career with Nissan as a dealer parts and service specialist in 2006. Two years later he transitioned to the sales side of the business as a regional market representative specialist — involved with the franchise agreement as well as market development. His current position, which began April 1, also has an emphasis on customer retention, he said. The University's automotive technology program "is like no other," Lonberger emphasized. "The balance between the technical and business sides of the automotive industry makes the education relevant and desirable to manufacturers in any automotive-related field," he said. "I would highly recommend the program to anybody who wishes to pursue a career in the automotive field. Not only will you receive a great education but after graduation you will have a rich fraternity of Salukis to help you get your foot in the door at some of the top companies in the industry." Christopher Reynolds, an assistant instructor in the automotive technology program, said it is important for students to be able to see and work on what they will see at dealerships and independent shops. The donations enhance the available base curriculum so that students are more prepared to serve a diverse market of vehicles, Reynolds said. In 2005, the automotive technology program earned the Automotive Industry Planning Council's Award of Excellence — its third time as the nation's top program. The program also earned top honors in 1991 and 1999; national winners cannot compete again for the award for five years.