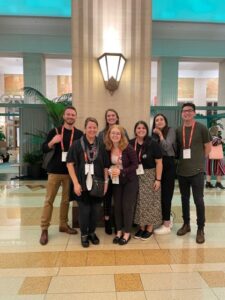 Last fall, students from SIU's Art & Design and Interior Design departments traveled to Chicago to attend the annual NeoCon Exposition as part of the SIU Foundation's Chicago Takeover Tour. Held at the renowned Merchandise Mark Plaza, NeoCon is a major event where the industry's major manufacturers as well as emerging companies showcase thousands of new products and services in categories including furniture, fabrics, flooring, interior building products, interior finishes and technology.
Laura Morthland, Program Director of Interior Design, said the trip was a resounding success.
"The trip was spearheaded by Mary Carroll, development officer for the SIU Foundation, and she worked collaboratively with alumnus Mark Steftenagel, CEO of Whitney Architects in Chicago as well as the industrial design firm QDesign. Fifteen students and four faculty made the trip and listened to industry leaders and participated in several tours during the multi-day event. We were well pleased with how this trip unfolded for our students," said Morthland.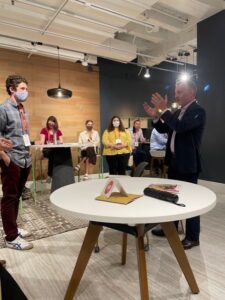 Students and faculty kicked off the field trip with a tour of Kimball/National showrooms where they toured Kimball's showrooms and learned about the latest trends in commercial office spaces and the changing healthcare needs. Students were also honored by a breakfast and tour at Whitney Architects where students were able to chat with several industry leaders, including special guest John Rouse, former editor of Contract Magazine.
On the first night of the St. Louis Takeover Tour, students attended Chancellor Lane's Chicago Takeover Tour reception at the Palmer House where they listened to Chancellor Lane, President Mahony and alumnus Mark Silverman, co-host of the Waddle and Silvy Show on WMVP, ESPN1000 address the crowd of more than 200 proud Salukis.
While in Chicago, the students enjoyed the Merchandise Mark Plaza in their free time and returned to SIU with a wealth of experiences and knowledge on cutting-edge trends in the industry.
"I want to extend a big thank you to Mark Steftenagel, Byron Morton, John Rouse, Kay Wulf, Whitney Architects and Q Design. This was an unforgettable experience for our students that they will carry forward throughout their lives," said Morthland.