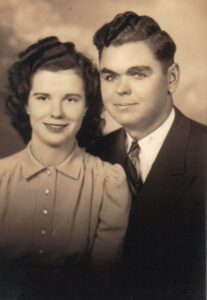 By Rebecca Renshaw
Wayne Braden isn't an SIU alumnus, but he certainly has the heart and spirit of a Saluki. Braden recently donated $25,000 for an endowed scholarship and made a $1 million planned gift commitment to honor his parents, Don and Edith Braden, who were from rural southeastern Illinois. The scholarship is to be awarded to a student who graduated from Thompsonville High School or Hamilton County High School in Illinois.
Braden's parents grew up in Hamilton and Franklin counties in the early 1900s. Both attended one-room schools, but Edith was not able to attend high school as the nearest school was too far for her to travel on horseback or foot. Don was a good student and his father intended for his son to attend SIU and had even saved to begin his education. Unfortunately, the stock market crash of 1929 caused their bank to fail and all of Don's college funds were wiped out. Don and Edith married, and they eventually settled in Detroit where they worked in auto factories.
"Even though their circumstances were beyond their control, my parents deeply regretted not receiving a higher education," Wayne said. "I think that is why it was important to them that my sister Judy and I got college degrees. Turns out, we both went on and achieved advanced degrees."
A few years ago, after the Bradens had both passed away, Wayne and Judy began looking for a way to honor their parents and their commitment to education.
"Our attorney suggested that many people establish scholarships in the name of their parents to honor them and we thought that was an excellent idea," he said. "My dad would have chosen to go to SIU, and he had plans to study engineering. We all know how SIU serves the Southern Illinois region where my parents grew up, so it just made sense to choose SIU for a scholarship in their name. I figured that if we gave a scholarship to a young person from McLeansboro, it would be as if we were looking out for my parents' neighbors. Looking out for your neighbors was important to my folks, so I wanted to continue looking out for their community."
Wayne said he has donated to charitable organizations much of his adult life and has been involved with the Salvation Army for several years.
"Charitable gifts are wonderful, and everyone should give back," he said. "This scholarship in honor of my parents means so much more than just giving to an organization. I recently did a conference call with the young man who is the recipient of my parents' scholarship. Realizing I was helping him accomplish a very important goal felt deeply satisfying."
Wayne Braden currently lives in Portland, Oregon, and his sister, Judy Braden Armstrong, resides in Maryville, Michigan.
Engage with us on LinkedIn, Facebook, Twitter and Instagram.