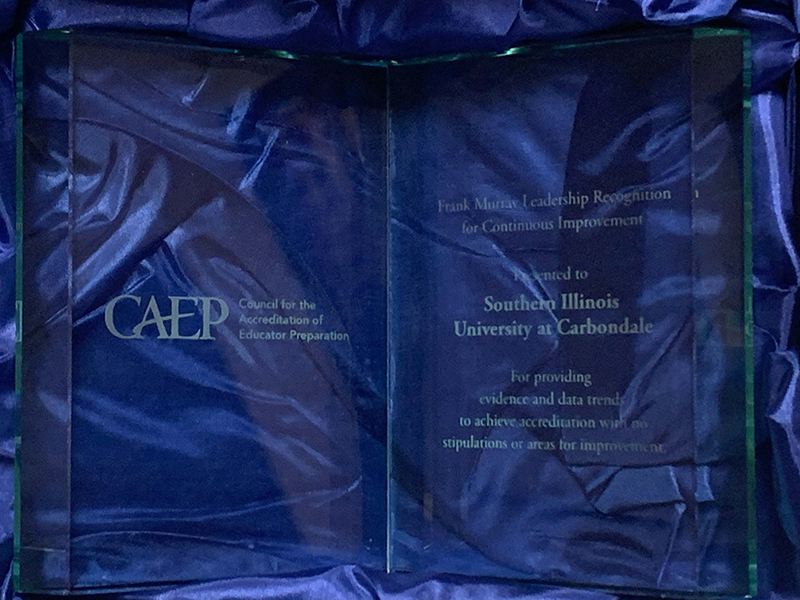 Congratulations to the SIU School of Education on receiving the Frank Murray Leadership Recognition for Continuous Improvement from the Council for the Accreditation of Education Preparation (CAEP) – only one of nine programs in the nation to receive the award!
Because teacher education occurs in programs within the School of Education  as well as in other specializations across Southern Illinois University, this award reflects a University-wide commitment to continually improving our quality teacher education program. Additionally, this award recognizes the commitment of our SIU Foundation donors who generously value and support SIU's 150-year commitment to educating future teachers.
For example, donors to the Teachers Shape the Future fund can be proud that their gifts helped SIU's Teacher Education Program  pay for a portion of the edTPA licensure test for teacher candidates, an exam used to identify teaching strengths and opportunities for improvement. By supporting this exam cost, required of all teacher candidates, SIU demonstrates its commitment to ensuring all K-12 students have accomplished teachers. This is one of SIU's strengths that directly led to this award from CAEP.
Gifts to Teachers Shape the Future fund also support the annual Student Teaching Pinning Ceremony – a meaningful event that brings together student teachers and classroom teachers and is a key element of strengthening the relationship with our partners in the development and assessment of our clinical teaching experiences.
Educating, motivating and mentoring quality teachers has been an integral part of Southern Illinois University's 150-year history. This award demonstrates that quality teacher education is not just our proud legacy, but also a strength today and a commitment to the future. Thank you to all the students, faculty, alumni and donors who made this impressive award possible!
Change Lives – Teach!