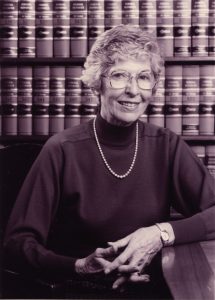 By Rebecca Renshaw
We all know of power couples who have the influence to do big things in our world and make it a point to help those less fortunate.
SIU Carbondale takes pride and honor being associated with its own power couple: Paul and Jeanne Simon. Together, they forged a new landscape for the university, the state and the country.
When Paul Simon, an Illinois Democrat, left the United States Senate in 1997, Jeanne Simon joined him on SIU's faculty as an adjunct professor of library affairs. Together, they helped found and shape the agenda of the SIU Public Policy Institute.
In 1993, Jeanne Simon had been named chair of the National Commission on Libraries and Information Science, a post to which President Bill Clinton reappointed her in 1997. In that position she promoted literacy programs and financing for libraries.
David Yepsen, director of what is now the Paul Simon Public Policy Institute, had this to say about the Jeanne Simon's contributions: "She was a pioneering figure in her own right and was considered a true trailblazer. She was one of the few women law students at Northwestern University and one of the first female representatives in the General Assembly."  Although Jeanne Simon passed away in 2000, Paul Simon continued their legacy until his passing in 2003.
A longtime Simon friend and former dean of SIU Library Affairs, Carolyn Wagner Snyder, sought a way to honor Jeanne Hurley Simon. Snyder helped establish the Jeanne Hurley Simon Memorial Scholarship to honor her life and legacy. In the last few months, Snyder and associate director, Delio Calzolari have worked tirelessly to raise commitments to endow the scholarship. Their small, but dedicated team has raised more than $60,000 so far.
The scholarship will honor Jeanne Simon's legacy by providing financial assistance, mentorship and other opportunities to Illinois students interested in public service careers.
"In a very real way, this scholarship is an effort to keep Jeanne Simon's mission alive by 'paying it forward' for other young women who want to pursue public service as Jeanne did," Yepsen says.
The first student to benefit from the scholarship is Shantel Franklin, a first-generation college student from Chicago.
"Since my freshman year, I have witnessed the Paul Simon Institute go above and beyond to provide opportunities for students," says Franklin, a political science major. "I am grateful to have been selected to be the inaugural recipient of this award honoring the remarkable life of Mrs. Jeanne Hurley Simon. I will benefit tremendously from the financial assistance of this scholarship."