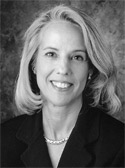 Marcia L. Bullard, a 1974 journalism graduate who was elected to the SIU Foundation Board of Directors last year, will be the keynote speaker for SIU Carbondale's fall 2012 commencement.
The ceremony will be at 2 p.m., Saturday, Dec. 15, in the SIU Arena. Students earning bachelor's, master's, doctoral and law degrees will participate in the ceremony.
Commencement ceremonies are open to the public, and tickets are not required.
More information about the ceremony is available at commencement.siu.edu/.
Bullard is the retired president and CEO of USA Weekend, and a founding editor of the national newspaper, USA Today, starting in 1982. She moved to USA Weekend in 1985, and during that time oversaw its expansion to 23 million circulation in more than 600 newspapers, including the New York Daily News, the Denver Post, Chicago Sun-Times, and Los Angeles Daily News. She is a two-time recipient of Gannett Co. Inc.'s top executive award, the President's Ring.
A media executive and consultant based in Washington, D.C., Bullard is board chair of America's Charities, a national non-profit federation that helps charities raise funds needed to accomplish their work. She is also on the board of directors of Points of Light Foundation and Heart of America.
A Springfield native, Bullard earned the University's Distinguished Service Award in 1999.
Bullard serves on the SIU Carbondale School of Journalism Advisory Board, She co-founded the Marcia Bullard-Laura Hardy Endowed Scholarship Fund for female students in journalism or art, and earned the School of Journalism's Alumnus of the Year Award in 1987. In 1997, she earned the Distinguished Alumni Award from the SIU Alumni Association.
In addition to her bachelor's degree in journalism, Bullard earned an MBA from The George Washington University.