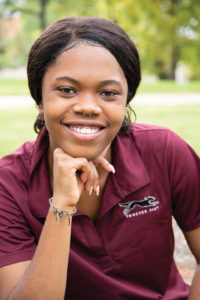 Welcome to a series of stories celebrating SIU's 150th anniversary.
Leah Hall is a freshman from Carbondale, Illinois, studying animal production.
Why did you choose SIU?
SIU has a great animal science program that could offer me a lot of hands-on experience.

What inspired you to choose your area of study?
I've been obsessed with animal science since I was a kid. I would always choose Animal Planet over cartoons and I decided to turn that childhood passion into a career.
What was your reaction when you received the Bertrand scholarship?
I was so surprised. This scholarship took a huge weight off my shoulders. I wasn't sure how I was going to pay my tuition for the semester, so it felt like the greatest gift ever.
How will the Bertrand scholarship help you make a difference in society?
Every single scholarship I receive motivates me to be a better student and a better person. Having complete strangers believe in me and my ability to succeed just makes me confident that my passion will impact others.
Do you have a message that you would like to share with Mr. and Mrs. Bertrand?
I'm so grateful that you saw something in me that was worth rewarding. Lately, every time I feel down I just remember this blessing and that without it, I could have been in a much worse situation. Thank you.
Why should donors consider establishing a scholarship fund for students?
There shouldn't be a price tag on education, but unfortunately, there is. There are thousands of students like me who have to work while attending school and that kind of pressure shouldn't be put on anyone if it doesn't have to be.
Has receiving this scholarship inspired you to give back to SIU in the future?
I want to give back by using what I learn at SIU to enter the agricultural industry and leave my mark.
Engage with us on LinkedIn, Facebook, Twitter and Instagram.