For recent Southern Illinois University Carbondale graduate Lauren V. Connor, learning first-hand about the legislative process in Springfield was an opportunity she will cherish.
Connor, the inaugural Alexander Lane intern, recently finished her work with the House Democratic Issues/Communications staff for the Illinois House of Representatives. Connor, who earned her bachelor's degree in theater in May, worked from mid-January through May 31 on tasks including assisting representatives in communicating with constituents, and researching and analyzing proposed legislation.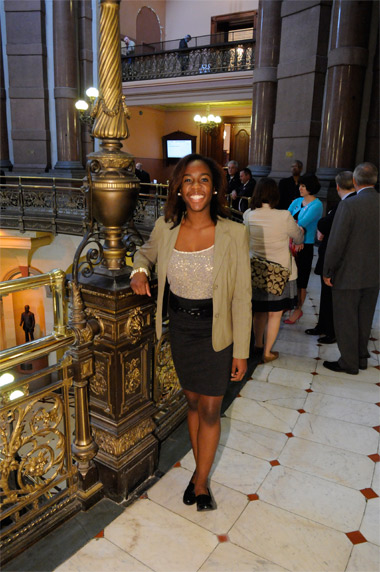 The daughter of Lawrence and Vernea Connor of Chicago, she said the experience at the Capitol "was a crash-course in state government, politics, policy and professionalism."
"This is invaluable to anyone interested in pursuing a career in politics and government," she said. "My knowledge of public policy, relationships with politicians, and understanding of the legislative and political process are the things I most cherish from my experience."
The Paul Simon Public Policy Institute established the internship program in November 2011 to honor Lane, the first African American male student at what would become SIU Carbondale. The paid internship allows at least one student each spring to work with a minority member of the Illinois General Assembly toward a goal of carrying on Lane's legacy of high achievement and public service.
Lane rose from meager beginnings in pre-Civil War Mississippi to become a school principal, physician, and an Illinois state legislator, in addition to attending then-Southern Illinois Normal University, enrolling in the teachers college in 1876, just two years after instruction at Southern Illinois Normal University began. Lane was the ninth African American elected to the General Assembly in 1906, and was re-elected in 1908. He died in 1911 in Chicago.
"Lauren was a great student to have as our first Lane intern," said David Yepsen, Institute director. "We got a lot of good feedback about her performance. I'm also grateful she was given the chance by the House to learn and to contribute in some way to the development of good public policy in the state. So thanks to Lauren and thanks to the Legislature for giving her the opportunity."
With a passion for writing and public speaking, Connor said one of her favorite aspects of her internship was developing speech-writing skills for remarks prepared for House members for conferences and hearings. As a staff member she also worked with numerous committees.
Connor said one of her more memorable experiences was the General Assembly's approval in late May of concealed carry legislation that is now awaiting approval by Gov. Pat Quinn. She wrote news releases, researched the topic, and recalls watching Speaker Michael Madigan, D-Chicago, give a closing speech prior House approval. She also recalls the passionate speeches of legislators opposed to the measure because of the possible detriment to their communities.
"I am still fascinated that I was able to participate in such a historic moment for Illinois," she said.
Connor, who is living in Chicago, said she wants to continue to work closely with House Democrats who are in the Chicagoland area, and she also wants to proceed with plans to produce and direct her not-for-profit theater company while working as an actor and performer. She is also planning to attend graduate school.
Simon Institute associate director Matt Baughman noted private donors provided the Lane internship stipend.
"Dozens of individuals and corporations have generously supported this internship to provide an opportunity to change the life of a student while also preserving the legacy of Alexander Lane, who is an important figure in the rich history of our University and our state," Baughman said.
Lane Internship endowment donations may be made online at www.paulsimoninstitute.org or sent to the Paul Simon Public Policy Institute, Mail Code 4429, Carbondale, IL 62901. Checks should be made payable to the SIU Foundation.