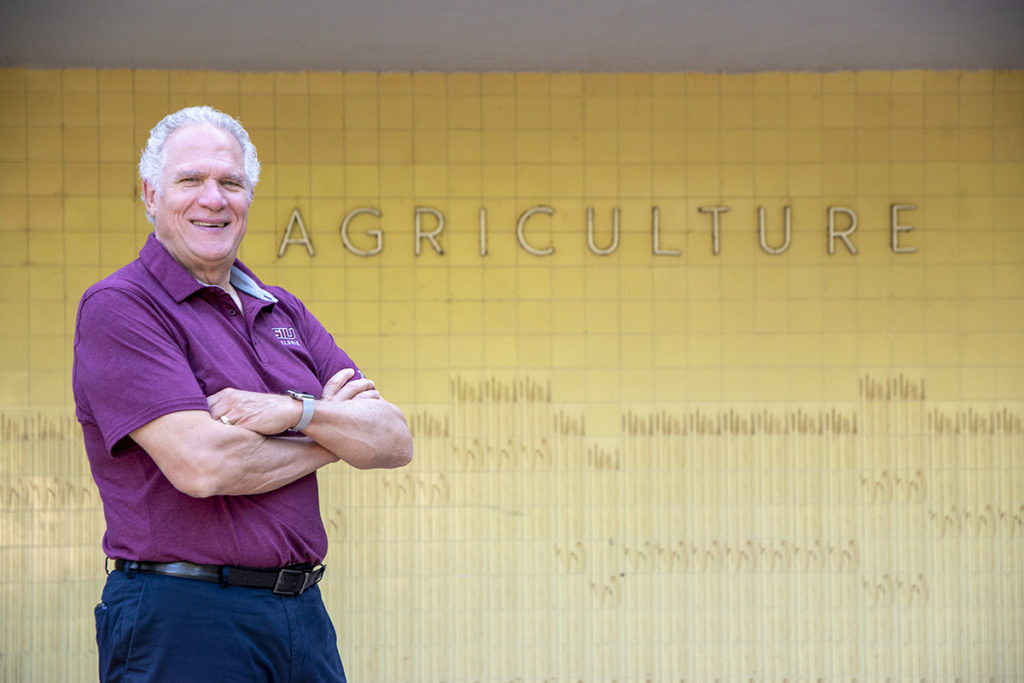 By Jeff Wilson
Venture inside SIU's beef and swine centers, and one will find students gaining hands-on experience and dedicated faculty and staff. Look a bit closer, though, and one will see a great need for improvements and expansion.
That's exactly what University Farms Director Greg Osman is hoping a recent $50,000 donation will bring, even if it takes a little time.
The gift, made by Paul Georgy '73, will bring a new lot of pigs and cattle to the farm. The short-term effect will be the immediate improvement of the quality of the livestock, but the long-term benefits are expected to go much further.
"This opens 100 other doors for teaching," Osman said. "To make the necessary improvements, this is the kind of thing we're going to need."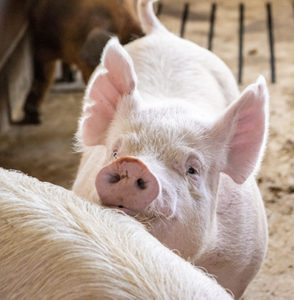 GIFT THAT KEEPS GIVING
The pigs were delivered to University Farms in October. They are of a higher genetic quality than previous litters. Simply, this means a higher profit down the road when they are sold.
"These are show-quality pigs," Osman said. "They're going to help us improve the foundation of our program."
Bringing in show-quality pigs will also mean an improved experience for the Livestock Judging Team.
"Before, our students were going to shows and looking at the high-quality pigs brought by other teams, and thinking 'What the heck?'" said Colten Collier, manager of the beef and swine centers. "Now they'll know what it's like to be on the other side of that."
As for the cattle, that's more of a numbers game.
Georgy's donation will bring more cattle onto the farm, and the increase will bring in more money and help the beef center become more self-sustaining.
"We'll be able to better utilize our pastures and fill them with our own calves," Osman said.
The profit from selling more and higher-quality animals will inject new money into the farms and allow for much-needed improvements.
Collier and Osman were quick to point out that they're not talking about major overhauls, but repairing and replacing some of the farms most basic needs, such as fences.
FILLING THE NEED
Georgy, a Trenton native, came to SIU as a transfer student. His dorm room for the first year at SIU was located at the beef center.
"Each farm had a dorm room," he said. "We were able to experience farm life and student life at the same time."
As a student, he was a member of SIU's Livestock Judging Team, which managed to win their first competition despite their members' lack of experience. Georgy believes the access to quality livestock is very important to building a winning team.
After earning his bachelor's degree in animal science, Georgy spent several years managing a purebred Simmental operation before starting a research/brokerage firm, Allendale Inc., which helps producers become better marketers of their products. He spent 18 years serving the futures industry on the board of directors of the National Futures Association.
His connection to SIU Farms spurred him to take action.
"How can I impact the most people?" Georgy said. "In this venture, we have the ability to impact thousands of people."
Georgy encourages others to get involved and make a difference, pointing out that gifts don't have to be only monetary in nature.
"Any type of donation can benefit the whole project," he said. "Donations of manpower, time, effort, gifts-in-kind, these are all ways that we can help restore and elevate the SIU farms to premier status.
"SIU Farms are an attribute that many other universities don't have. It offers experiences you can't get elsewhere. I'm excited about the opportunities that we can provide to our SIU students, parents, the community and the agricultural industry."
For more information about how to give, visit www.foreversiu.org or www.siuf.org/giving/ways-to-give.