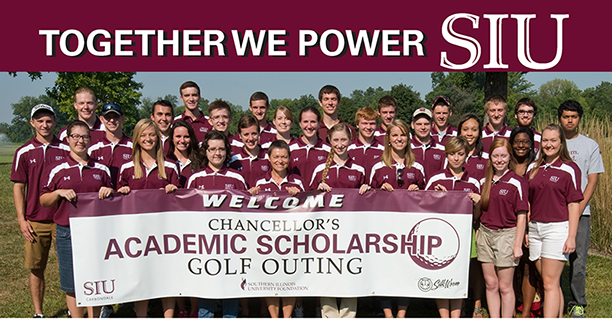 The 2013 Chancellor's Academic Scholarship Golf Outing generates funds that make it possible to honor 35 students who excel academically and serve as outstanding ambassadors on campus and in the community. Chancellor Rita Cheng extends a heartfelt thank you to everyone who supported the Chancellor's Academic Golf Outing on Friday, Sept. 6. We were able to gross $70,000 for the academic scholarship fund. Thanks to the following sponsors:
Summa Cum Laude
College of Science
Follett University Book Store
710 Bookstores
Magna Cum Laude
Blaudow Family Fund
Chancellor Rita Cheng and Tom Cheng
Cook Portable Warehouses
Image Architects
Southern Illinois Healthcare
The Southern Illinoisan
Cum Laude
Ameren Illinois
Asaturian-Eaton & Associates P.C.
Vice Chancellor Kevin and Lyn Bame
BKD, LLP, CPAs and Advisors
BLDD Architects, Inc.
Blue Sky Vineyard
Community Media Group
Fund Evaluation Group LLC
Helitech
Dan Korte
Murdale True Value Hardware
Provost and Vice Chancellor John and Stacy Nicklow
Vice Chancellor Jim and Lisa Salmo
Sandberg, Phoenix & von Gontard P.C.
Silkworm, Inc.
SIU Alumni Association
Howard and Karri Spiegel
White & Borgognoni Architects P.C.
Sponsors
Alliance Investments Planning Group
Clarence and Donna Copping
COUNTRY Financial
Dean Dennis and Rona Kay Cradit, College of Business
David and Kelley Delaney
Steve and Jolene Falat
Farmer Environmental Services
Gilbert, Huffman, Prosser, Hewson & Barke, Ltd.
Illinois National Bank
Rob and Melissa Jensen
Dean Kimberly Leonard, and Dr. Charlie Leonard, College of Liberal Arts
Bill McGraw
Bob Ramsey
Southern & Central Illinois Laborers' Health & Welfare Cooperation Education Trust
Harvey and Trish Welch
Hole Sponsors
Interim Dean Laurie Achenbach, College of Science
Aisin Manufacturing Illinois
Dean Mark Amos, University College
Arnold's Market
John G. Benitez & Linda G. Allison
Steve Brown
Changing Seasons Landscape Center Co.
John T. Cherry
College of Business
Compac
Dippin Dots, L.L.C
Eggemeyer Architects
Interim Dean Susan Ford & Albert Allen, Graduate School
KWR Ventures, L.L.C.
Dean Mickey Latour, College of Agricultural Sciences
Interim Dean Dafna and Dr. Peter Lemish, College of Mass Communication and Media Arts
Athletic Director Mario and Heidi Moccia
Associate Vice Chancellor Pat and Rob Moline
Dean Anne Cooper Moore, Library Affairs
Slade O'Keefe
Payne, Gaertner and Associates
Jim and Sheila Pietroburgo, St. Louis Food Ingredients
Prairie Farms Dairy
Interim Dean Katie Sermersheim, Dean of Students
Paul Simon Public Policy Institute
SIU Credit Union
Matt and Laura Soucy
State Farm Insurance David Anderson, Agent
Walgreens
Dean Andy Wang, College of Applied Sciences and Arts
Dean John Warwick and Laura Helsel, College of Engineering
Dean Keith and Beverly Wilson, College of Education and Human Services
Donors
Richard and Barb Brown
Marcia Bullard
Michael and Nancy Carr
Dick's Sporting Goods
Jill Gobert
William Hartmann
Hickory Ridge Public Golf Center
Koerner Distributor
Panera Bread
Pepsi MidAmerica