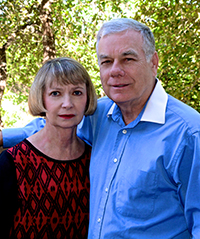 Marsha and Gary Bertrand were raised in a modest, small Illinois farming community of 1,400 people. Today, the Austin, Texas, couple is committed to supporting young people in similar circumstances through gifts to their alma maters.
"Education has been essential in our lives. Neither one of us could have accomplished our career goals without it," Marsha says.
Marsha, who graduated in 1970 from SIU with an associate's degree in business, is a freelance writer with expertise in investment, finance, and business-related topics. Her work has been published in a variety of newspapers and magazines, and she is the author of four books: "The Consumer Guide to the Stock Market," "Getting Started in Investment Clubs," "A Woman's Guide to Savvy Investing" and "Fraud! How to Protect Yourself from Schemes, Scams, and Swindles."
While Marsha was in Carbondale, Gary was in the Air Force stationed in South Carolina serving our country. He enrolled at the University of South Carolina, completing courses at night toward his accounting degree. After college, Gary was in banking for 10 years, and subsequently purchased a Chicago-based company that specialized in glued magazine inserts for publications such as Time, Newsweek, and Readers Digest. He sold his company in 1994.
The couple is striving to make their respective alma maters beneficiaries of their good fortune. The Bertrands recently presented SIU with $1 million to establish the Bertrand Foundation Scholarship Endowment. Awards will be presented after the endowment generates earnings (they are doing the same for University of South Carolina) and they have made provisions to support SIU through a deferred estate gift.
"Our scholarships are earmarked for middle-income families, which is the environment we grew up in," Gary says. "Several scholarship programs are in place to support low-income families. And those with high income don't require such support. Marsha and I have been fortunate to enjoy success through our careers and various investments. We don't have any children, so we decided it was best to provide scholarship support for our schools."
The Bertrands, high school sweethearts who will celebrate 44 years of marriage in October, say education set the tone for their success.
"I had never been away from home. SIU broadened my perspective in addition to fostering independence and maturity. I became a different person," says Marsha, who subsequently earned an M.B.A. at Lake Forest School of Management in 1982. "I made lifelong friends and we keep in touch. Four of us meet annually. It is special to have friends like that, and I owe it to SIU."
Gary says his college experience had a similar impact on him.
"The military was an eye-opener for me, and education was the difference," he says. "I realized the need for a degree and it was made possible through the G.I. Bill. I wouldn't have been able to afford it otherwise. We want to pass that opportunity on to others."
Marsha expressed pride in her alma mater after a recent visit. "Our enhanced library is beautiful and I didn't even recognize the Student Center," she says. "It is great to see my school progressing in this fashion."
For more information on how to establish an endowment through the SIU Foundation, visit www.siuf.org. Also, for details regarding deferred gift options, visit our new gift planning website at: www.siufgiving.org, or e-mail: giftplanning@siuf.org.