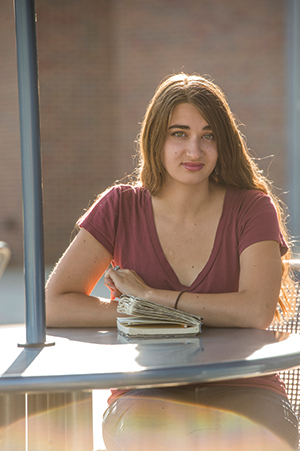 Carmen Burkett is a senior from Carterville, Illinois, studying zoology.
Why did you choose SIU?
SIU is a beautiful campus, offering unique experiences, and the degree program I desired.
What are your hobbies, interests, and/or activity groups that you are currently involved in?
I enjoy the beautiful, natural surroundings and outdoor activities close to SIU. It has been a great experience to meet International students through the conversation partner program and other activities.
What was your reaction when you learned that you received the Bertrand scholarship?
I felt extreme gratitude.
What does receiving the Bertrand scholarship mean to you? What difference did it make in your life?
I am so thankful–not only have I been given the opportunity to learn and grow academically, I have had so many wonderful experiences since starting at SIU. I have met people from all over the world, witnessed exciting research, and been part of something great.
How has the donor's generosity impacted your view on your educations and goals for the future?
I hope to one day be able to tangibly help others achieve their educational goals,thereby building society as a whole.
How will the Bertrand scholarship help you make a difference in society?
I hope I, too, can be a source of inspiration and practical assistance to others who are working toward their goals.
Do you have a message that you would like to share with Mr. and Mrs. Bertrand?
I am so very grateful. Thank you.
Why should donors consider establishing a scholarship fund for students?
This is truly an investment in the future of society.
How would you like to support SIU students in the future?
I would like to be part of nourishing the learning environment for others.