By Jeff Wilson
Like so many others, Jennida Chase and Hassan Pitts are passionate about their corner of SIU's campus.
Chase is an assistant professor in the Department of Cinema and Photography. Pitts is the technology coordinator for the College of Mass Communications and Media Arts and executive director of the Big Muddy Film Festival. Each of them hope to improve their areas through equipment upgrades and much-needed funding.
Whether it's updating equipment for filmmakers, journalists, photographers or others in the college, the importance of keeping up with technology, including virtual reality and augmented reality equipment, can't be understated.
"Adding these things would allow students to find new horizons of storytelling," Chase said. "Working in these capacities would make them more competitive. We'd love to open these doors for students."
Affordability and hands-on experience are two major components to attracting top students to the college.
"We'd like to offer a more holistic approach to media," Pitts said. "All of these items would allow for the students to pursue a competitive cinema and media education."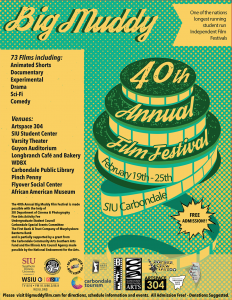 Big Muddy Film Festival
The annual Big Muddy Film Festival is celebrating its 40th year in 2018. The widely recognized event is a labor of love, the planning of which never stops.
"It's a student-led experience," Pitts said. "Not only is it an application of what they've been doing in class, they take on curatorial duties and are largely involved with scheduling and marketing."
In fact, students spend a decent chunk of time visiting gathering donations from local businesses, including the sponsorship of the meals and refreshments that are served during the festival.
"The film festival promotes togetherness and uniqueness. It prompts discussion and interaction. It promotes change and the exchange of ideas," Pitts said. "It's the physical manifestation of the student body."
Even something as engrained in the history of SIU as the film festival isn't immune to changing landscapes and difficult times.
"The world of cinema is literally expanding," Pitts said. "The film festival cuts across many different structures in Southern Illinois, helping keep it connected to ideas from around the world."
Support is essential
As it is in many areas of campus, the need for support is great. Funds raised through the Forever SIU campaign and the upcoming SIU Day of Giving on March 7, can be directed toward the Department of Cinema and Photography and earmarked for the film festival.
"We can't stagnate," Chase said. "In this field, we must keep moving forward."
To learn more about the Big Muddy Film Festival, visit bigmuddyfilm.com/. For more information about the Forever SIU campaign, visit foreversiu.org/ and to support the SIU Day of Giving, go to siuday.siu.edu.